Overview
One of the main features that consultant members of CollegePlannerPro enjoy is the ability to invite students to log in to their student account, which is called CustomCollegePlan. When students log into their account at www.customcollegeplan.com, they can:
See assigned tasks and update progress
Research colleges and build a college list
Read messages and emails sent by their counselor
View their calendar and book appointments
...and much more!
>> For more information on what students can and cannot see in the student portal, see: How do I modify what Students can see in their account?
>> For more information on inviting students to their account, see: Enabling a Student's CustomCollegePlan account.
>> Check out our student resources page for links to an introductory video, eBook, and flyer you can send along to new students and parents.
---------------------------------------------------------------
Navigating the student account
Dashboard

When students log in, the first page they will see is the Dashboard. The Dashboard contains:
A banner showing the student profile picture and greeting the student
A Message Board containing important information from the counselor

Your Agenda

: A listing of the next upcoming meeting, with the option to schedule a meeting (if the consultant has made any appointment types available), as well as a list of all student meetings

Outstanding To-Dos

: A list of To-Dos not yet marked as completed (a warning indicator will appear next to any that are past their due date)
The student-counselor Conversation panel (collapsible and accessible from all tabs)
A search bar allowing students to search colleges by name and navigate to the college profile page (accessible from all tabs)
Keychain
The keychain option in the upper right-hand corner of the top navigation bar launches the student Keychain. Students are able to access, edit, and grant permissions for the Keychain upon clicking this button.
Account & Profile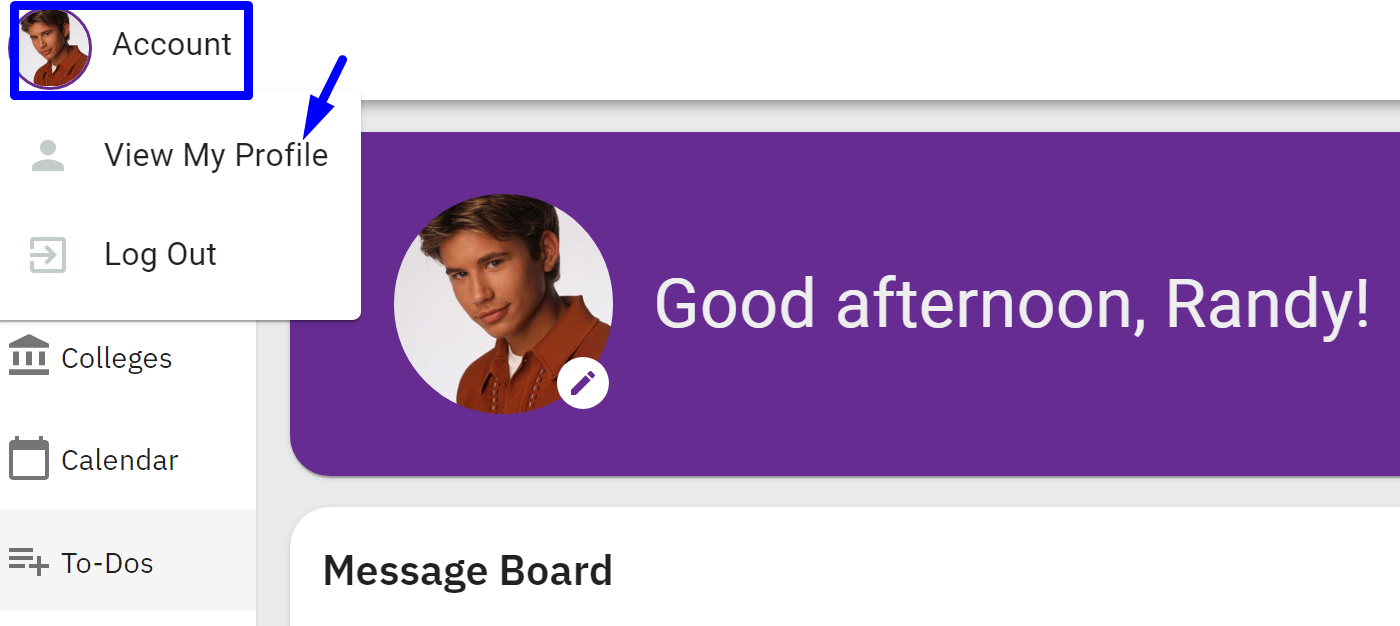 Note: If the student does not yet have a profile picture, the icon next to "Account" will show student initials until a picture is uploaded.
Clicking the Account menu in the upper right-hand corner allows students to:
Testing

The Testing tab contains:
A list of test dates and results for the student
A pre-populated list of ACT, SAT, and PSAT dates that students can add to their testing history
An "Add Test Date" button to add custom test dates and results
Colleges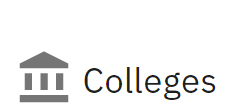 The Colleges tab contains:
College Reports added by the counselor, if any
The counselor's Suggested List and student's My List of Colleges
Ability to add/remove colleges to/from the My List, re-order My List colleges, access the map view of colleges, and view admissions probabilities (if assigned by the counselor)
A list of the student's target deadlines for My List Colleges (if target deadlines have been selected)
Calendar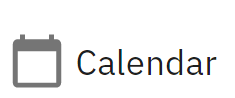 The Calendar tab contains:
To-Dos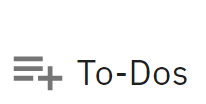 See How do students view and update To-Dos?
Application Outline

See The Application Outline Tab within CustomCollegePlan
Emails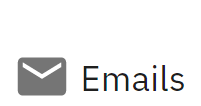 See What email messages appear under the 'Emails' tab in CustomCollegePlan?
Files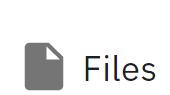 View files and folders shared by their counselor
Assessments

If the student has Human eSources (AchieveWORKS) assessments enabled, they can click this tab to access and complete the assessments.
Writing

If the student has Prompt enabled, they can click this tab to access their Prompt portal.
Settings

Manage notifications and link their mobile phone
Change their password
Toggle their theme (color scheme of the account)
---------------------------------------------------------------
Support

The "Report an Issue" button in the left-hand sidebar allows students to directly email the support team with any technical difficulties they may be experiencing.