As a consultant, you may want to add a place on your professional website through which students can access their CustomCollegePlan accounts. Most consultants add a button with the name "Student Login", "Client Login", or "CustomCollegePlan", which students click on to quickly access the student login page.
If you like, you can embed one of our premade login buttons (in various colors). Click here to download a premade CustomCollegePlan login button image, like the one shown below.

CollegePlannerPro vs. CustomCollegePlan URLs
As a reminder, the login page for you as a consultant is different from that used by students. When adding your website button or otherwise sending a student to your login page, be sure you are providing them with the CustomCollegePlan domain.
Sample consultant web address: [yourcompany].

collegeplannerpro

.com
Sample student web address: [yourcompany].

customcollegeplan

.com
Linking to your site upon CustomCollegePlan account activation
If students can access the CustomCollegePlan login page through your professional website, there is a setting you can activate in CollegePlannerPro to include a link to your website in the email that goes out to students when they are invited to activate their CustomCollegePlan account.
From the Dashboard, click the "My Settings & Preferences" icon. At the bottom of the far right-hand column you will see "Advanced Student Login Settings." Click the toggle to active, and enter the exact URL of the webpage containing the login link.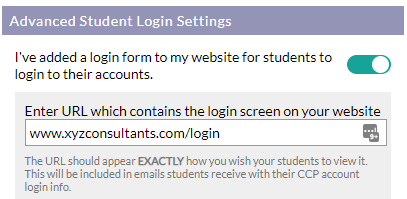 Example of student account activation email with a custom login URL. If you do not enable this setting, the email will instead reference [yourcompany].customcollegeplan.com.