Making a student inactive and disabling their account have similar qualities, but actually, do two different things.
One thing to note about your subscription plan is that each plan offers an additional student per plan. Meaning, if you are on the 10 student plan you actually are able to have 11 active students before having to upgrade. We have this in place so consultants can add a sample student to test items out on.
Disabling a student's account:
Disabling a student's account means the student no longer has access to their CustomCollegePlan account, but you, as the consultant are still able to work within your student's profile. This means you can add documents, notes, time tracker hours, among other things, and the student still counts as an active student toward your subscription plan.
Below are directions on how to disable your student's CustomCollegePlan account.
Head to a student's profile
In the top left corner you will see a button that says, "Login account status" under the heading, "CustomCollegePlan.com Student Access" a blue button indicates that the account is enabled. Gray indicates that the account is disabled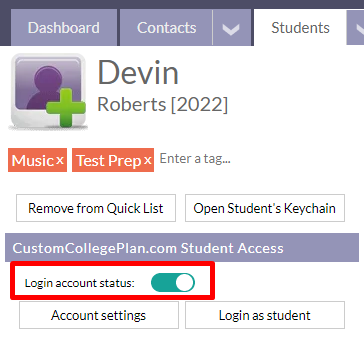 Changing a Student's Client Status to Inactive: 
When a Student's Client Status is inactive, all student profile information is archived, and you no longer have the ability to add to or work with the profile. Changing the status also removes the student from your subscription plan, freeing up a spot for an additional active student profile.
All student data regardless of their client status is preserved and available for review via all reports throughout the platform. Should you at some point wish to add more information to your student's profile, you may simply mark their client status as "Active" again to regain access to their student profile.
To mark a student as Inactive:
Head to the student's profile
Towards the bottom left, you will see a button that says, "Active student client" under the heading, "Student Client Status" a blue button indicates that the account is active. When the button is gray, the account is inactive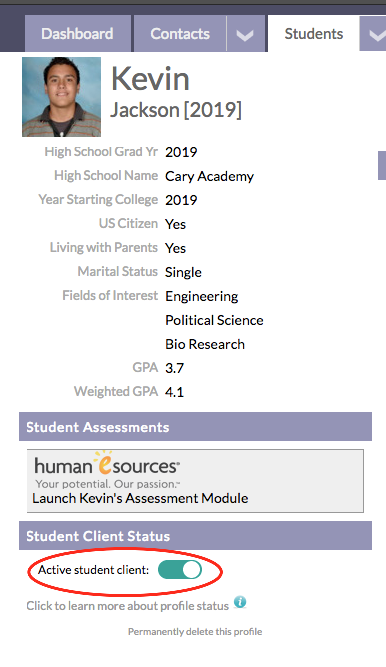 Helpful (related) articles