Can questions and comments be included on a To-Do?
You and your students may post comments on To-Do's. This provides for an easy way to keep communication lines open between you and your students. A new post will be indicated by a blue dialog bubble displayed in the To-Do. If a student posts a comment, this action will also be included in "Student Updates" listed on your Students Main page.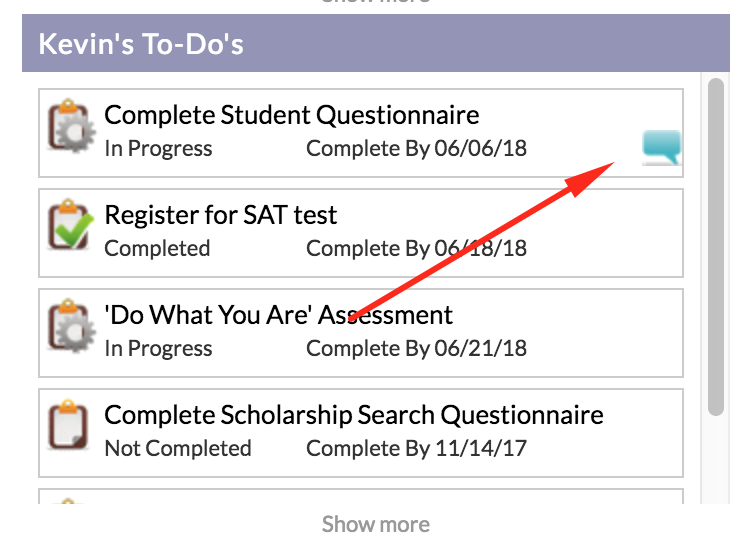 How can the progress of the To-Do be tracked?
Both you and your student may indicated the progress of the To-Do by changing the status while viewing the To-Do. There are three levels; Not Completed, In Progress and Completed.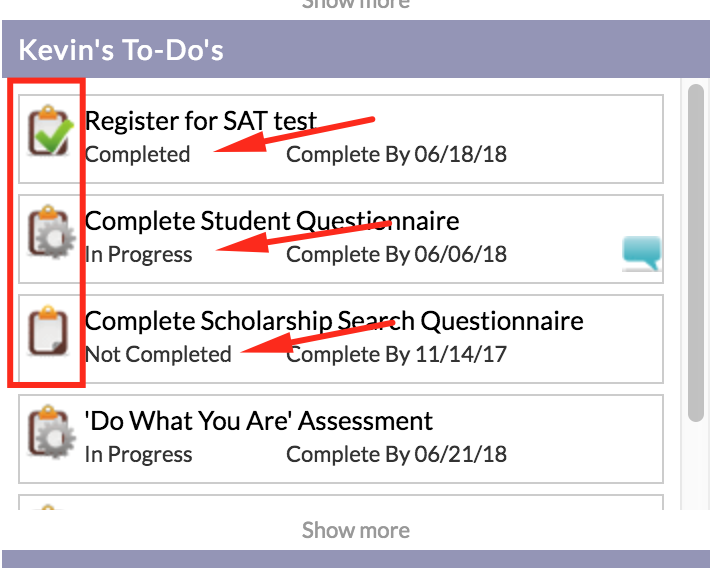 Can I run a report to see the status of To-Do's for all my students?
A report may be run so that you can manage the To-Do's for all of your students. See, "How do I generate a report listing all Student To-Do's?"
Can I control if the To-Do is viewable students?
To-Do items can be set to "Private" which will prevent the student from being able to view the To-Do. To-Do's listed as "Shared" may be viewed by students. This may be useful when you are not ready for the student to work with the To-Do, but you'd like to load them up in their profile. If you would like to create a To-Do list for a student that is viewable only by you, creating a "Checklist" is another option. For more information, see "What are Checklists?"
How do I view and sort To-Do's?
Consultants may sort To-Do's chronologically by "Complete by" date. See this article for full details.