Either you or your students may indicate an admission decision. This information is viewable on the student profile within your CollegePlannerPro account and on the "Application Outline" tab within the student's CustomCollegePlan account. While looking at the student's college lists, next to each college will be icons indicating both the application status and the admission decision. If you are not certain what the icons represent, simply hover your mouse over the icon or refer to this article - "How to View the Schools Students Have Yet to Submit Applications For"
You will also be able to generate various reports so that you may track admission decision trends within your practice. The "Admission Decision Report" will list the admission decisions for all of your students, both active and inactive. "My Top Admitted Colleges" will list colleges where your students have been admitted.
How to indicate the admission decision from your CollegePlannerPro account:
Navigate to a student's college profile (either from the student profile or from the college profile)

This is done by clicking on the college name from the student's profile (either within the Suggested or My List of Colleges), or

When on a College Profile, click on the "Students, Deadlines & Requirements" tab. You may click on your student's name from the left-hand side.

From the "Application Information" section:

Indicate the student's First Choice and Alternate Choice Major. (Optional)

Toggle the Application Status to "Submitted" if the app has been submitted

Optionally add the date the application was submitted

Indicate the Admission Decision

Optionally add a note about the Admission Decision

This information will now be available in the above-mentioned reports.

Additional information may also be added if the admission decision is "accepted".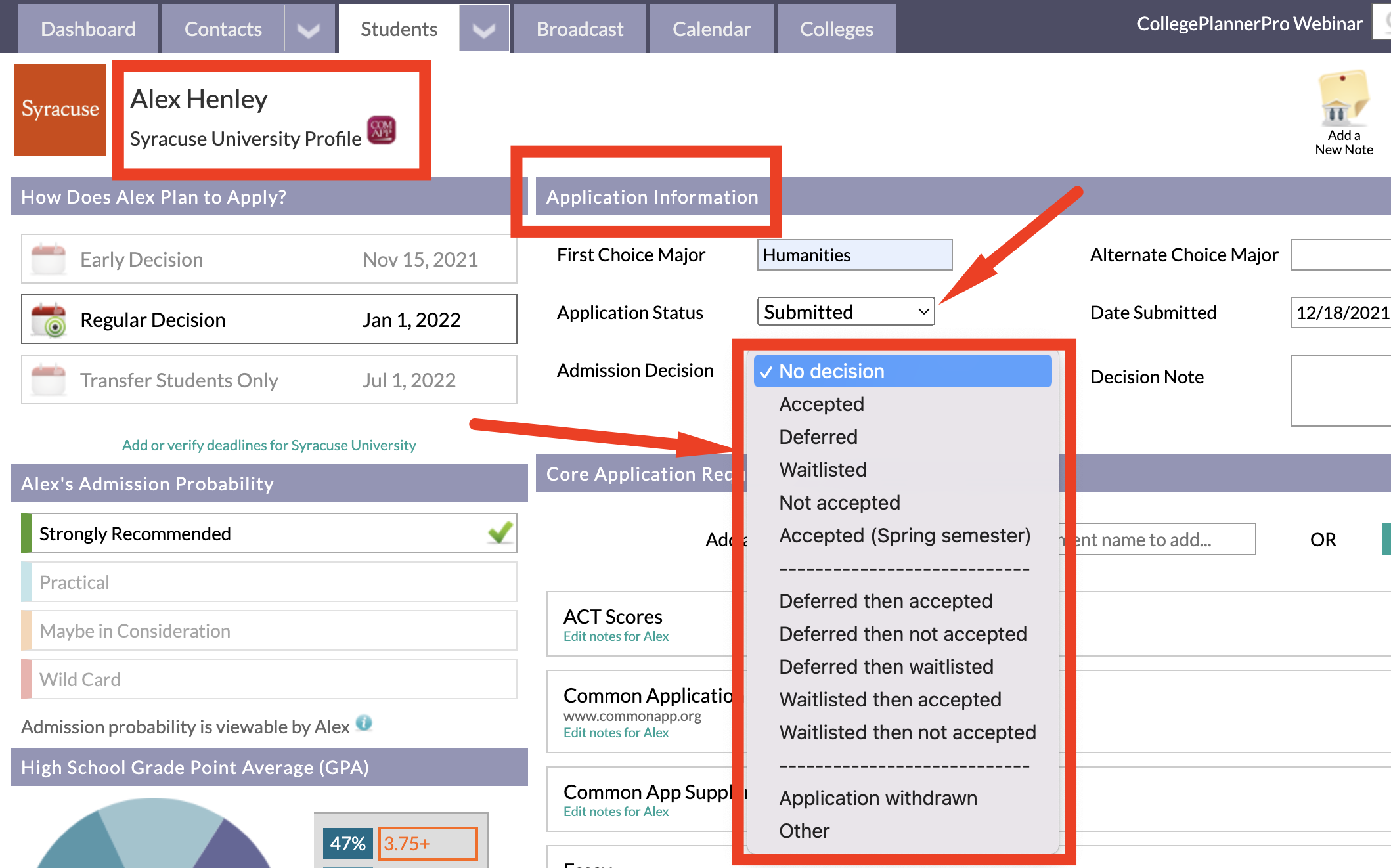 How to indicate the admission decision from the student's CustomCollegePlan account:
You or the student may indicate the admission decision from the student's CustomCollegePlan account. For more information on how to track the admission decision see, "How do Students track the Admission Decision for each college?"
Note: Once the admission decision is listed as "accepted", this section will expand and information on possible attendance and scholarships may be added. For more on adding additional information see, "How do I track the Student's Scholarship information?"