You can connect your external calendar(s) like iCloud (Apple) Calendar, Google Calendar, or Outlook Calendar to CollegePlannerPro in order to see the external calendar events alongside your CollegePlannerPro events. Upon connecting an external calendar, you can also define which sub-calendar(s) you want to affect your availability for scheduling meetings through the CollegePlannerPro scheduling tool.
Video walkthrough
Step-by-step instructions
On the Calendar tab in CollegePlannerPro, click "Connect/Manage Calendars"

Click "+ Add"

Select your calendar provider from the list, and follow the steps to authorize Cronofy (our 3rd party calendar partner). You must grant these permissions in order for your calendar connection to work; in certain cases, this may trigger security alerts from your calendar partner letting you know that the Cronofy authorization has been granted).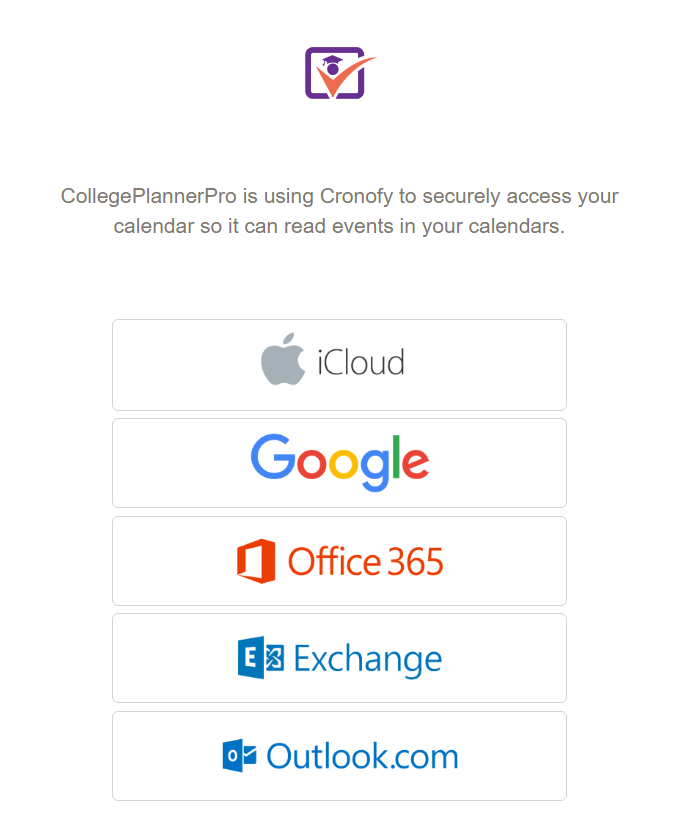 Once authorized, your calendar events will begin syncing, as indicated by the blue bar that will appear at the top of the page.

(Optional) You'll be immediately prompted to configure your connected calendar account to select which calendar(s) should impact your availability for meetings booked through the CollegePlannerPro scheduling function. See: How do I prevent clients from scheduling with me when I am busy?

It may take up to 60 seconds to populate your events when you connect a new calendar account. Refresh the page after 60 seconds to view your newly-connected calendar(s) and events.

Connected calendars will appear in the left-hand panel on the Calendar tab, under the "Connected Calendars" header. This section may be expanded or collapsed by you.

Check and uncheck specific calendars to show or hide them on your CollegePlannerPro calendar.

Each connected calendar account will have a different color label with a striped background, to differentiate the events from native CollegePlannerPro events.



The integration supports the display of external calendar events 45 days into the past and 200 days into the future; any events outside this range will not be shown in CollegePlannerPro.
Once connected, updates made to events in your external calendars will usually update in CollegePlannerPro within about 30 seconds, although each calendar provider has a different mechanism/cadence for pushing updates. In our experience, Google and Outlook.com updates are nearly immediate, whereas iCloud updates may take up to 30 minutes.
This is what you will see immediately upon successfully connecting a new calendar account: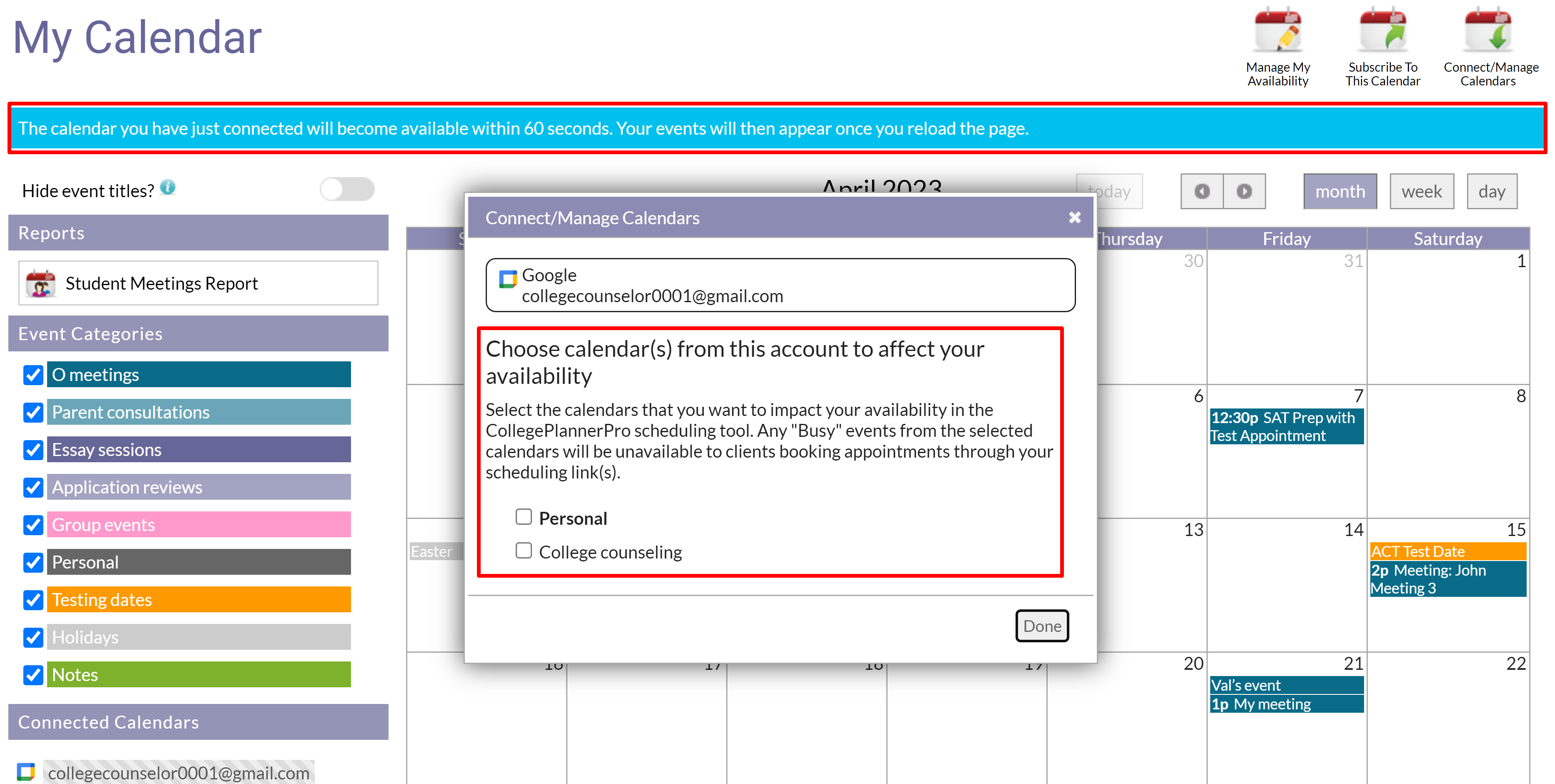 This is what you will see upon refreshing the Calendar tab once your calendars and events have been synced: