Where does the deadline data come from?
We source application deadline data each year from a highly reputable education industry data provider called Peterson's College Data. The deadlines themselves are self-reported by colleges on an annual basis, and the deadline data is generally made available to us in August.
What causes errors in the deadline data?
The deadlines provided to us can be incorrect for one of several reasons: (1) The deadlines were reported by the college before being officially set or confirmed, (2) The institution changed deadlines after reporting to the data collector, or (3) There was a clerical error or misinterpretation of deadline categories on the part of the individual reporting deadlines for the college.
What if I find an error?
Deadline error reporting is now possible from college profile pages. When on the "Students, Deadlines & Requirements" tab of a college profile, a link to "Report as incorrect" will appear next to deadlines that are a part of the deadline import. Clicking this link will prompt you to review the importable deadline, enter your suggested deadline, and provide a URL as evidence of your suggested deadline's accuracy.

What if a deadline is missing altogether?
If you notice any other missing deadlines, you can click on the green button "Show Quick Add" and then you will see those other deadlines have a "Report as incorrect" icon next to them. You can refer to the below screenshot as a guide: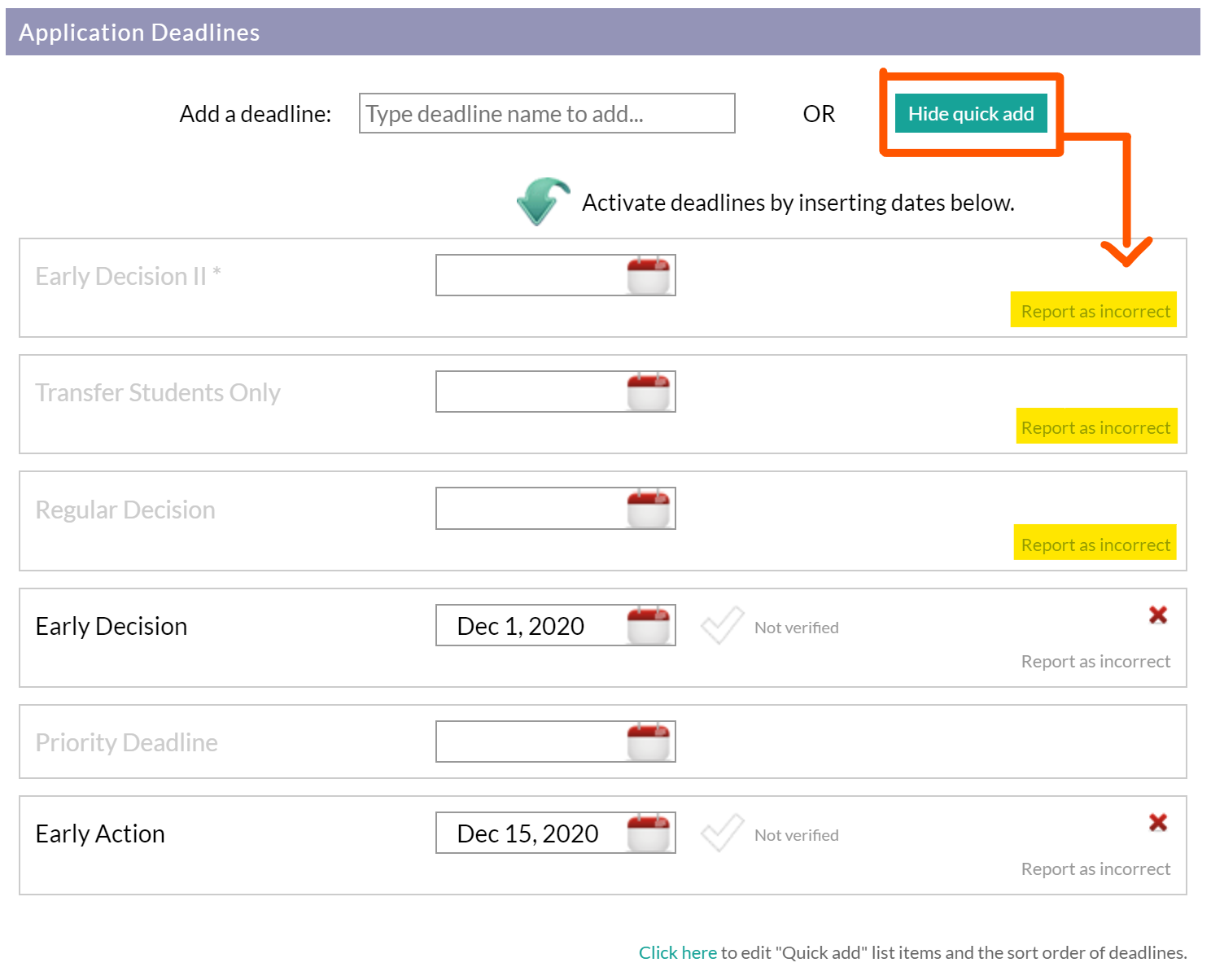 Please note:
If you are not seeing the "Report as incorrect" link, the deadline in question is either a custom deadline or was not part of the deadline import. Only the 5 deadline types from the import can be reported as incorrect.
Reporting a deadline as incorrect will

not

automatically update the deadline in your account; you will still manually need to edit and verify the deadline.
If your deadline correction is not accepted, we will get in touch with you to further explain.
As errors are reported by members, CollegePlannerPro will continually update the deadlines import file. We will update a help article to track changes and update you weekly via in-app notifications with a link to the post. You can keep your account updated by following along with the article updates and making manual edits to deadlines, or - when in doubt - by re-running the import to access the most recent set of deadlines.