This article is a part of our New Member Training Guide in the Application Tracking section. Navigate to the next article in the series by following the link at the bottom of this article or return to the New Member Training Guide homepage here.
The application deadlines in CollegePlannerPro are a combination of internal research, the Common App, and dates sourced from Peterson's College Data, which collects them and releases them on an annual basis. You may choose to import this deadline information into your account. We highly recommend that you verify these deadlines by visiting each college's website or contacting the school.
The deadlines that are available for the import are based on what information was provided by the school to the database provider. (To learn more about our data provider and how to verify deadlines, visit this article.) It's easy to import the deadlines and then further edit them to suit the needs of your practice, learn more on How do I add Application Deadlines from College Profiles?
How to Import College Deadlines - Video Overview
Step-by-step instructions
1. Navigate to the "Colleges Main" page and select "Import Deadlines" from the toolbar
2. Please read the "Use Disclaimer" and then enter your initials and select "Next" to proceed with the import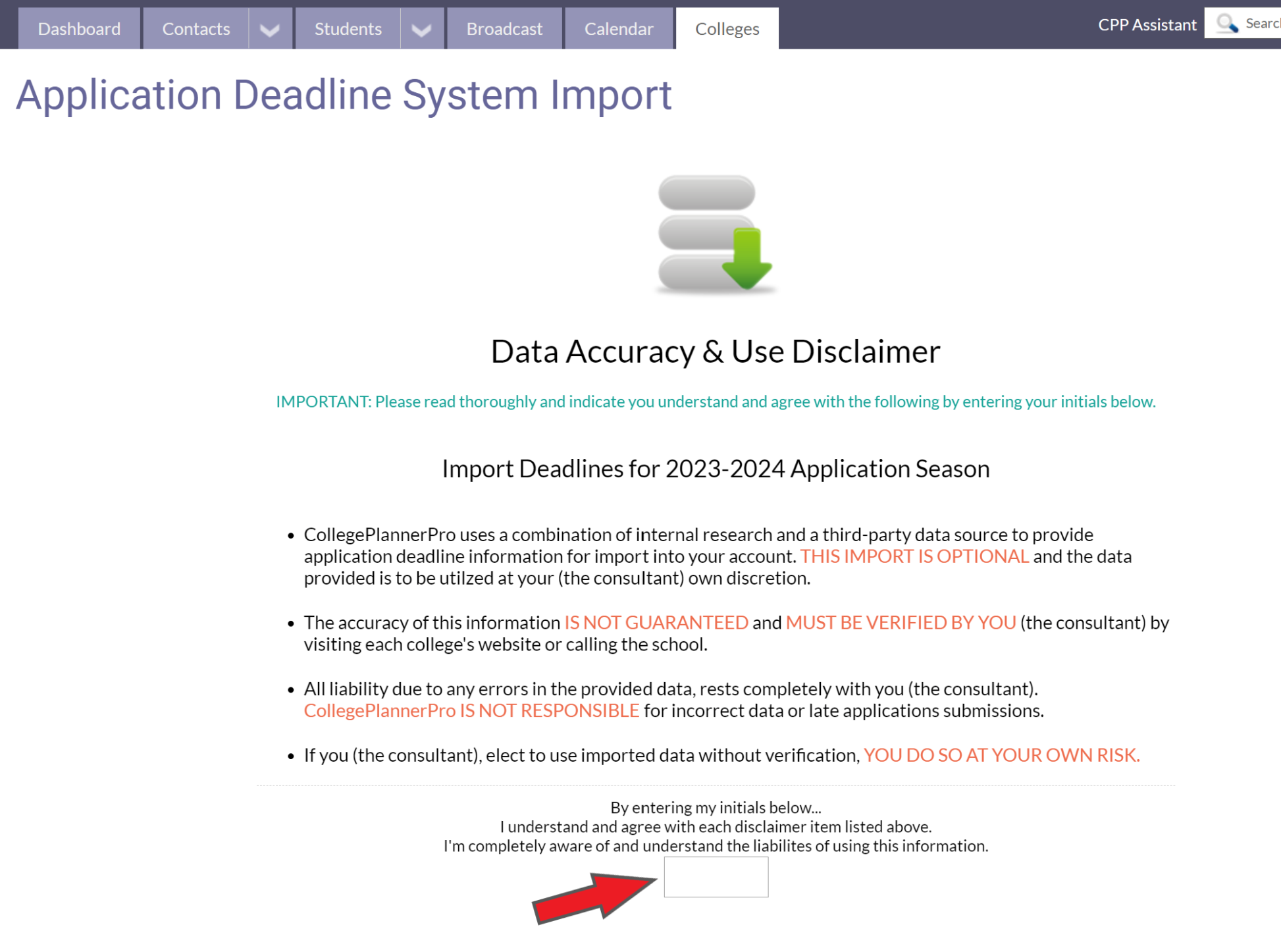 3. Select the deadline types you'd like to import.
4. Choose whether or not you'd like to clear verified deadlines (Only applicable if you've previously verified deadlines in your account)
NOTE - Verified deadlines are not automatically overwritten during the import process.
If you have gotten a head start and have manually updated application deadlines for the current year's application cycle, you may simply proceed with the import process without overwriting any of your work. In this case, you will NOT want to clear verified deadlines.
If all of the verifications you have done are for the previous year's application cycle, use the option to clear verified deadlines to start with a fresh data set.
5. Select the colleges to be imported, you may "uncheck" the box next to each college you do not choose to import deadlines for.
6. Once you have finished unchecking colleges or choose to include all schools, navigate to the bottom of the screen and select "Next"
7. Read the "Final Step" summary and when you are ready, select "Begin Import" (Another dialog window will open to ensure that you choose to proceed)
8. All the selected deadlines will now be imported into your account and ready for you to verify
Frequently Asked Questions:
What if I work with multiple consultants in our account? Will we each need to import deadlines?
Only one user in a shared account will need to import the deadlines. Team collaboration is made simple - if one user verifies a deadline, that information updates for all users in the shared account.
What if a target deadline for a school has already been selected for my student(s) before the new deadlines have been imported?
Follow this link to learn more on Resetting Application Deadlines
Which deadline types will be available for import?
Peterson's College Data is our licensed source for application deadlines. Deadline types that will be available for import are:
Regular Decision
Early Action
Early Decision 1
Early Decision 2
Transfer
If I start adding/verifying deadlines before the new deadlines are ready for import, will my work be overwritten?
No. During the Application Deadlines import process, you will be notified if you have previously verified application deadlines. You will be given the option to override previously verified deadlines, or to keep them as is.