What is Broadcast Message tracking?
Once a Broadcast message is sent to recipients the tracking begins! So, what is tracking exactly? When a message recipient receives a Broadcast message and opens it, that action is logged by your CollegePlannerPro account. It captures the date and time of when the student or parent opened the message. This helps you know who received your Broadcast message and when. The tracking statistics from the most recent sent message are displayed on the "Broadcast Main" page by default. To view statistics for other sent messages, click on the message and a pop-up window will open, showing you the current results.
Viewing sent message recipients
To view the list of recipients for a sent message simply click on the message on the "Broadcast Main" page. In the dialog window that opens, click the button at the bottom labeled, "View Recipients." A list of recipients will appear in a new dialog window in a "table sortable" view. Click the table's column headers to sort the list in the order you wish.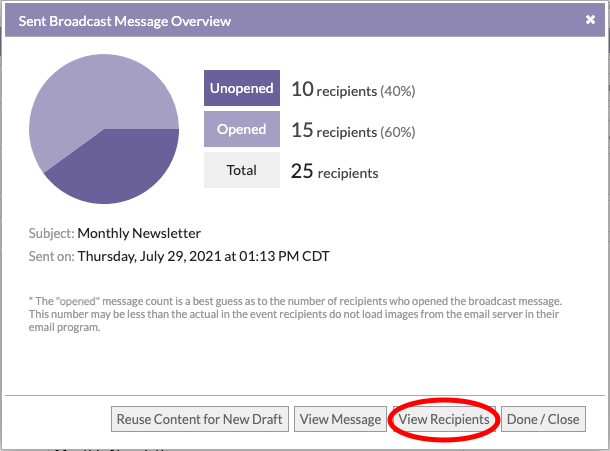 A note about message tracking:
If a message recipient elects to not "download images" or "show images" when viewing your Broadcast message, the tracking may not count the message as "opened" for this recipient. If this happens, note that the "opened" count will actually be higher than what is displayed within CollegePlannerPro.
Helpful (related) articles
How do I send a Broadcast Message?
How do I save Broadcast Messages?
How do I create a Broadcast Message?
Editing a Broadcast recipient list
How do I include the names of all students in a broadcast message?