You can view your CollegePlannerPro calendar events in an external calendar like iCloud (Apple) Calendar, Google Calendar, Yahoo! Calendar or Outlook Calendar. In order to link the calendars, you will need to add a URL-based calendar "subscription" to your external calendar so it knows how to retrieve your CollegePlannerPro events. This is a two-step process.
First, retrieve the calendar subscription URL for your CollegePlannerPro calendar:
Log in to CollegePlannerPro and click the "Calendar" tab. In the toolbar, click on the "Subscribe To This Calendar" button.

This will open a window containing calendar subscription

URLs for each of the supported external calendars

. Copy the entire URL for your desired calendar.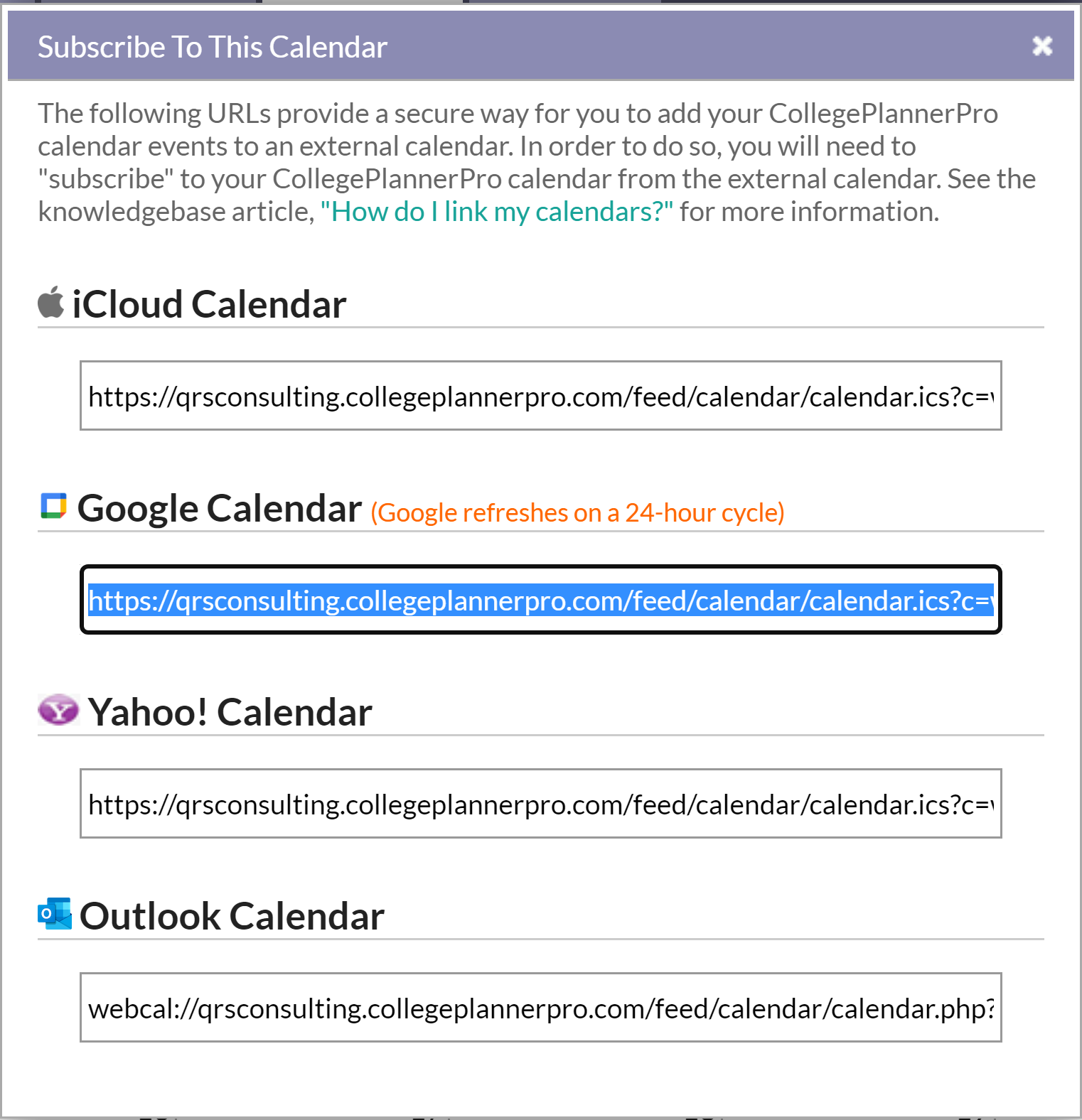 Second, launch the external calendar where you'd like to view your CollegePlannerPro events.
Follow the steps below for your selected calendar type.
Please note: We strongly recommend linking your calendar from a desktop/laptop computer, as opposed to a mobile device or tablet. Some 3rd party calendars do not support creating new calendar subscriptions from mobile devices.
Google Calendar
See: How to view your CollegePlannerPro events in your Google Calendar
iCloud (Apple) Calendar
iCloud account on your Mac
iCloud account on your iPhone/iPad
Outlook Calendar
See: How to view your CollegePlannerPro events in your Outlook Calendar
Yahoo! Calendar
See: How to view your CollegePlannerPro events in your Yahoo! Calendar