College Search is now in Beta release. Utilizing the robust dataset from Peterson's College Data, the feature focuses on the most widely utilized search criteria as determined by our Member Advisory Board. The Beta release represents the baseline version of the feature and your feedback will be vital to the expansion and evolution of it moving forward.
Article Quick Links
Feature Walkthrough - Video
Accessing College Search
Search Criteria Overview
Reviewing Search Results
Creating a Custom College List
Submitting Feedback
FAQs
Feature Walkthrough - Video
Accessing College Search
To launch the College Search, click on "College Search" in the toolbar located on the Colleges tab.

Search Criteria Overview
Location
Schools included in the search are located in the United States or US based territories. You may search by census defined regions, specific states, or territories
Fields of Study/Majors
Search for specific Fields of Study or Majors, or utilize the dropdown menu to view all available options.
School Size
The total full-time undergraduate students at a college
Small < 2000
Medium 2000 - 15,000
Large 15,000 - 30,000
Very Large 30,000+
SAT/ACT Scores
Test scores represent the score of enrolled degree-seeking first-time freshman students, and the search focuses on the 25th percentile. This is defined as the score that 75% of students scored above. The search parameters return schools with a 25th percentile within the minimum and maximum range you select.
Selectivity
Selectivity is defined by a proprietary set of criteria created by Peterson's College Data. Selectivity is self-reported by colleges based on the following parameters:
Virtually all applications accepted regardless of high school rank or test scores
Acceptance Rate up to 95%
Class Rank - 75% of freshmen in top 50% of HS
Acceptance Rate 85% or less
Class Rank - over 50% of freshman in top 10% of HS
Acceptance Rate 60% or less
Class Rank - over 75% of freshmen in top 10% of HS
Acceptance Rate 30% or less
Type
Select between 2-year and 4-year institutions, or choose both to see all options.
Campus Setting
Select between Rural, Small Town, Suburban, and Urban campus settings
Institution Type
Public, Private - For-Profit, Private - Not for Profit
GPA
The GPA value represents the Average high school GPA on 4.0 scale for degree-seeking, first-time, admitted freshman students.
While most colleges report unweighted GPAs, some choose to report a weighted GPA
Religious Affiliation
Filter for colleges with religious affiliations: Protestant, Catholic, Jewish, and Other affiliations.
Reviewing Search Results
After you have selected your criteria, you will be presented with your search results. For specific details on schools, click on the info icon.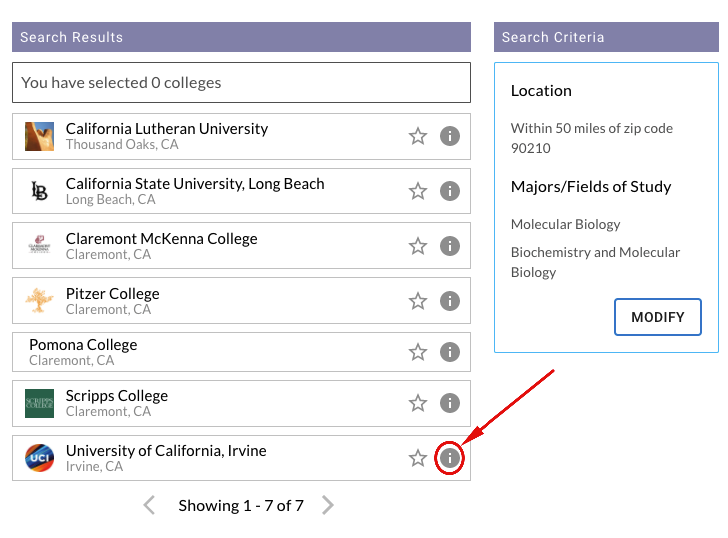 You will then be presented with details on the selected school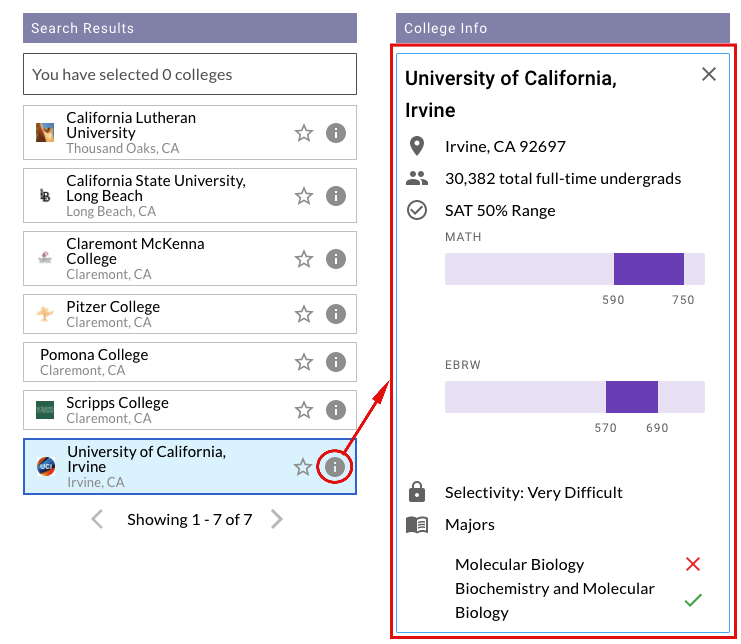 If you have selected multiple Majors or Fields of Study as part of your search, the availability of those selections will be indicated with an X or a checkmark as shown above.
Creating a Custom College List
To create a Custom College List, select the desired schools by "starring" them and clicking "Create a List"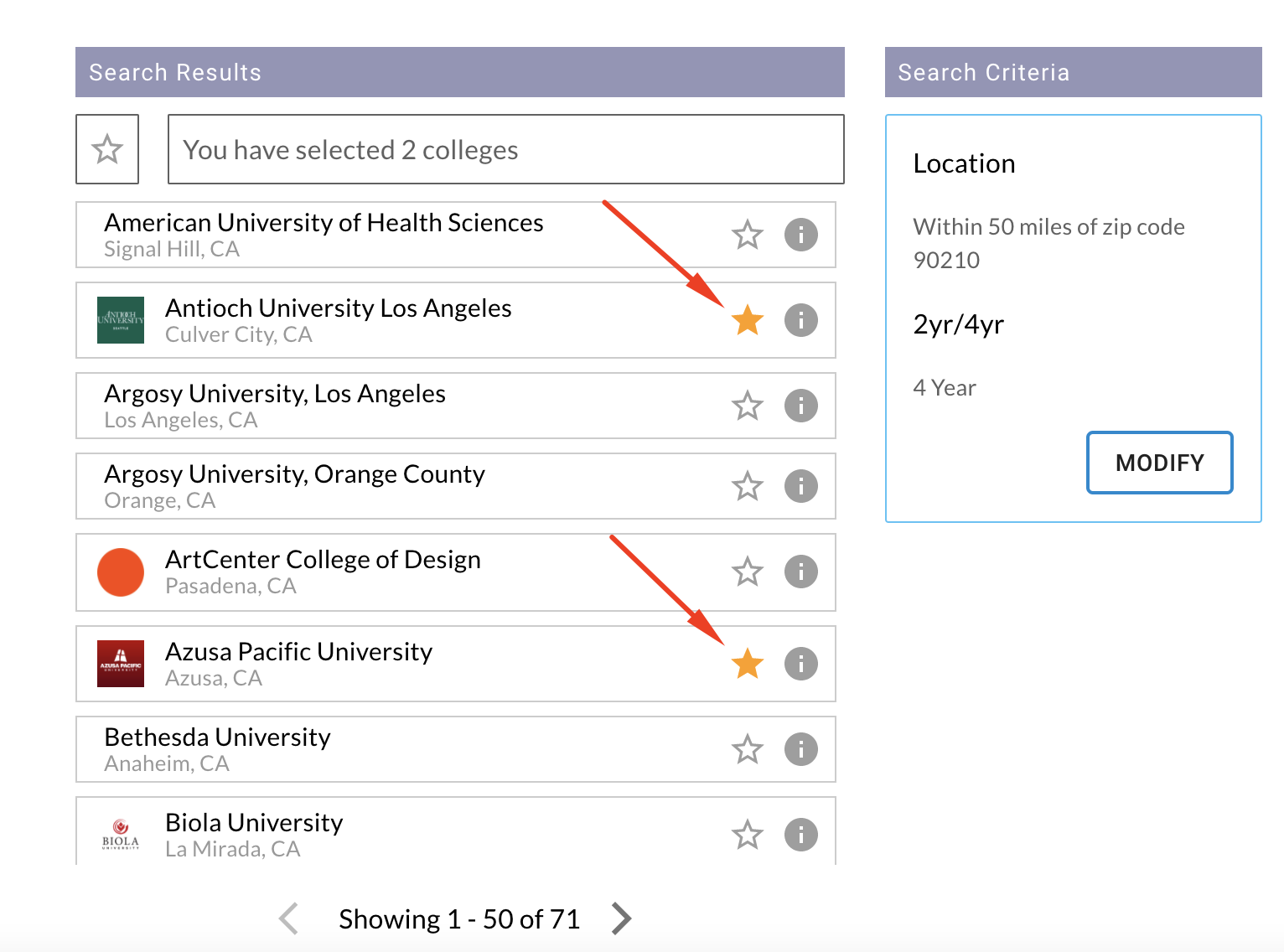 To select all schools displayed on the page, use the star at the top of the list: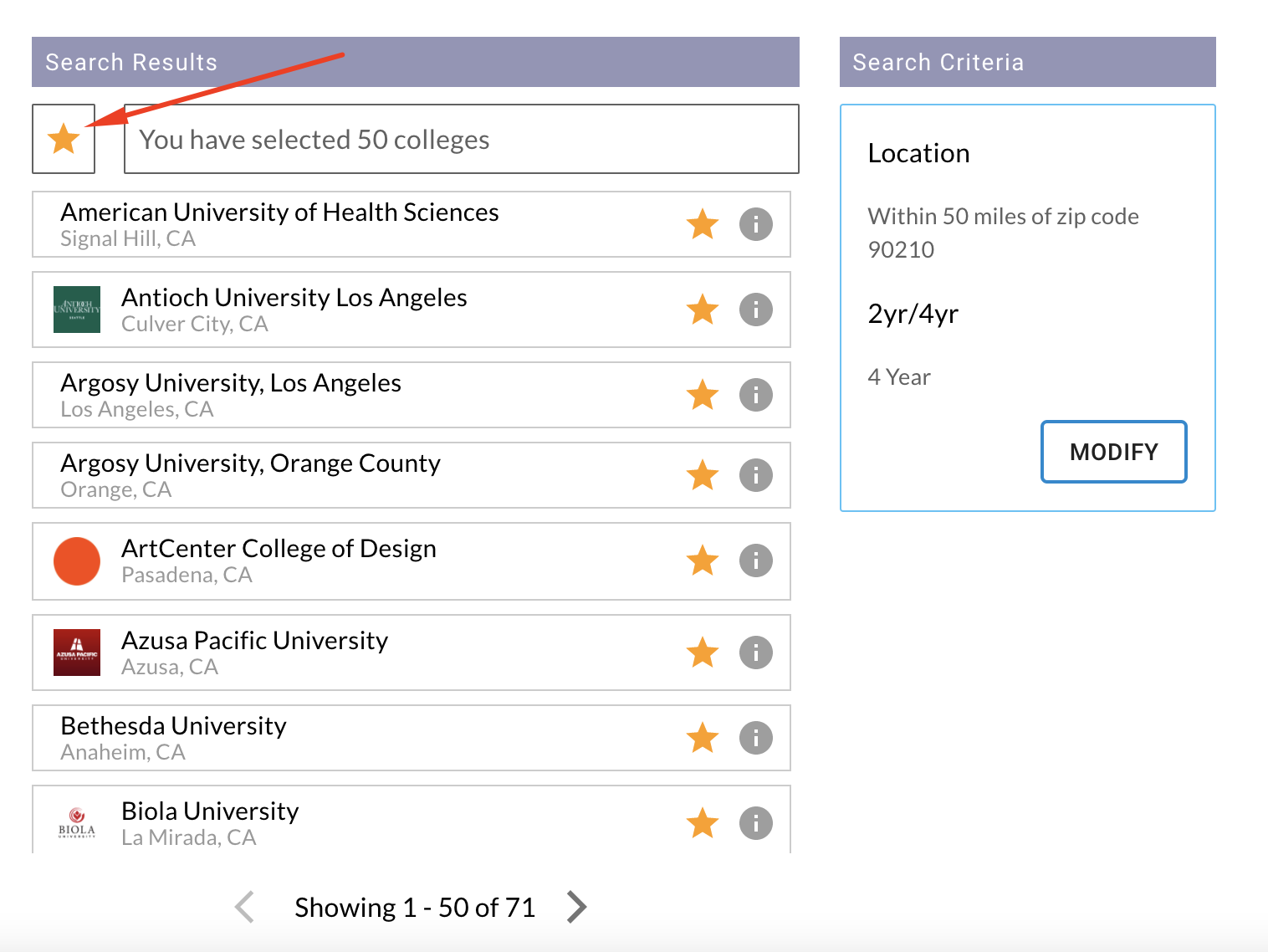 You may select all schools from each page of search results. Once you are satisfied with your selections, simply name your list, add an optional description, and save it.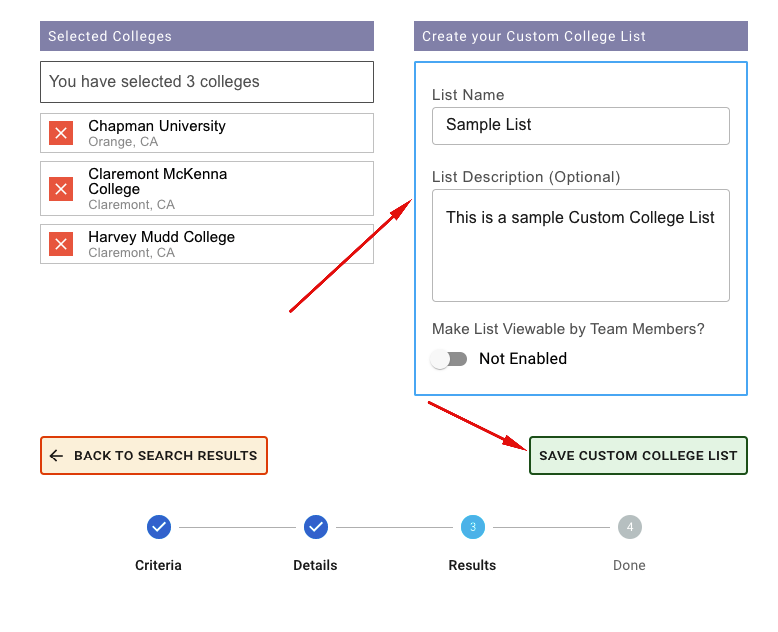 Your newly created Custom College List will appear on the Colleges tab within your account with any other Custom College Lists you've created in the past.
For more information on Custom College Lists and Pre-loaded Lists, check out:
How do I create a custom college list for my own reference?
Submitting Feedback
Your feedback will be vital to our continued expansion and iteration upon this college search tool. Use the Submit Feedback button at the top of the search page to share your thoughts!

FAQs
Will there be additional data points added to this feature?
Yes! The Beta version of the search feature is our baseline. The feature will expand and evolve based on the feedback from our members.
What is the difference between Fields of Study and Majors?
Fields of Study are broader subject areas within which Majors are categorized. For example:
Field of Study - Biological and Biomedical Sciences
Majors within that field of study: General Biology, Cellular Biology, Microbiology and Immunology, etc
Do my students have access to this feature?
Students do not have access to the College Search feature. It is only available to consultants.
Why are there discrepancies in college data found in the search versus what is on the college profiles in the rest of the platform?
The search tool is built on a new (more recent) dataset from Peterson's College Data. As such, there may be some discrepancies in numbers between the search's "mini profiles" and the full college profiles you see in the rest of the platform. All college profiles will be revamped using Peterson's data set in the next phase of development.
How does Peterson's Data differ from IPEDS data?
For complete details, check out this article.