You may find it helpful to create a report listing all of the exam/test scores for your students. You may choose to see a composite of test scores for all of your Students. You may also choose to see a list of who has signed up for upcoming tests and if you have set calendar reminders.
Through your CollegePlannerPro account, you may create a report for preloaded tests and also for tests that you have added to the system. You may also choose to generate the report for a specific test date or for a defined date range. You can even include inactive Students.
The Exam/Test report will furnish the name of the Student, the test and registration date, the scores (if posted), and whether it is set to be included on the Student's calendar.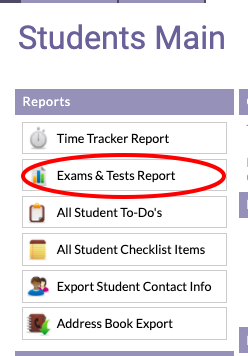 How to create an Exam/Test report
Navigate to the Student Main page and click on "Exams & Tests Report" in the left-hand column
In the "Select Exam/Test Report Options" window, select the test to be reported on
Choose either a specific test date or a date range
Click on "Generate Report" (you may now view the report or download the file)
NOTE: You can include inactive students and/or teammate assigned students