History
The Fiske Guide to Colleges is a widely-used and highly respected resource for students and their families and counselors as they navigate the college search and application process. It was first published in 1982 by Edward B. Fiske, a former education editor for The New York Times. Fiske identified a need for a comprehensive and unbiased guide to colleges that would provide students and their families with detailed information about the institutions themselves, as well as the experiences of current students. Updated and published annually by Sourcebooks, the Fiske Guide is now the top-selling college guide book in the United States. Its detailed write-ups on 320+ of the nation's colleges and universities have now been relied on for decades to go beyond statistics and marketing brochures to showcase the unique attributes of higher education institutions.
Why it's useful
The Fiske Guide is one-of-a-kind in that it is not based on a numerical ranking system, but rather on extensive research and personal visits to each campus. This lack of a traditional objective ranking means that students can focus on finding the ideal fit for them, rather than simply looking at which schools are said to be the "best" or "most prestigious." The guide covers a wide range of institutions, including public and private universities, liberal arts colleges, and specialized schools, and offers information on everything from academics and student life to campus culture and facilities.
One of the most valuable aspects of the Fiske Guide is its focus on the "personality" of each college or university. Personal anecdotes and unique rankings for things like social life give readers a real sense of what it would be like to attend the institution as a full-time student. Crucially, the guide also provides a list of "Overlap Schools" for each college, opening the reader's eyes to other colleges that share similar traits, values, or tone. Students are thus given an easy way to explore additional colleges that may appeal to them.
Beyond this, the Fiske Guide has become known for its curated lists of colleges providing excellent educational value. The publication releases its 20 public and private "Best Buy" schools each year, which are frequently cited in the media. Other lists featuring colleges with particularly strong programs for certain majors or student support resources are also added periodically.
For parents and counselors, the Fiske Guide can be a useful tool for guiding and supporting students as they explore their options and make important decisions about their education. The guide's extensive and unbiased information can help families have informed and productive conversations about colleges, and can provide counselors and mentors with valuable insights as they work with their students.
In CollegePlannerPro
CollegePlannerPro began licensing the Fiske Guide in 2016. It is accessible through both CollegePlannerPro and CustomCollegePlan (see screenshots below). Since Fiske is built right into the CollegePlannerPro platform, it's easy for both counselors and their students to find and use, with no extra associated cost or login required.
Members of CollegePlannerPro may also reference the aforementioned lists (Best Buys, strong programs, etc.) within the Custom College List feature. And the best part is: there's no need to buy or lug around a heavy physical book, as all the guide's content is accessible digitally through CollegePlannerPro.
Note: We license the Fiske Guide directly from the publisher. The "Fiske Interactive" online guide is a separate product intended to be purchased by individuals; this online-only guide is not currently available for purchase.
Consultant view
"Fiske Guide Profile" tab on a College Profile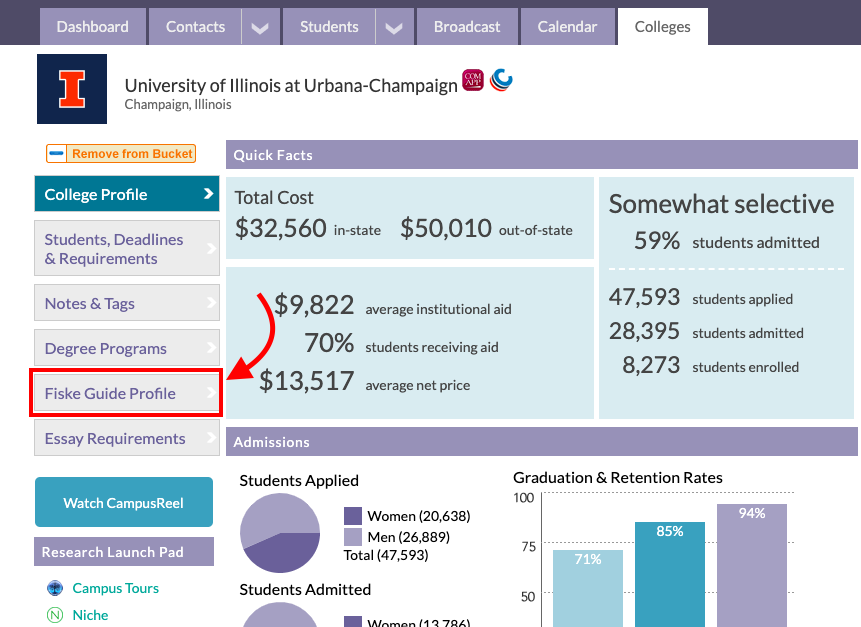 Student view
"Fiske Guide" tab on a College Profile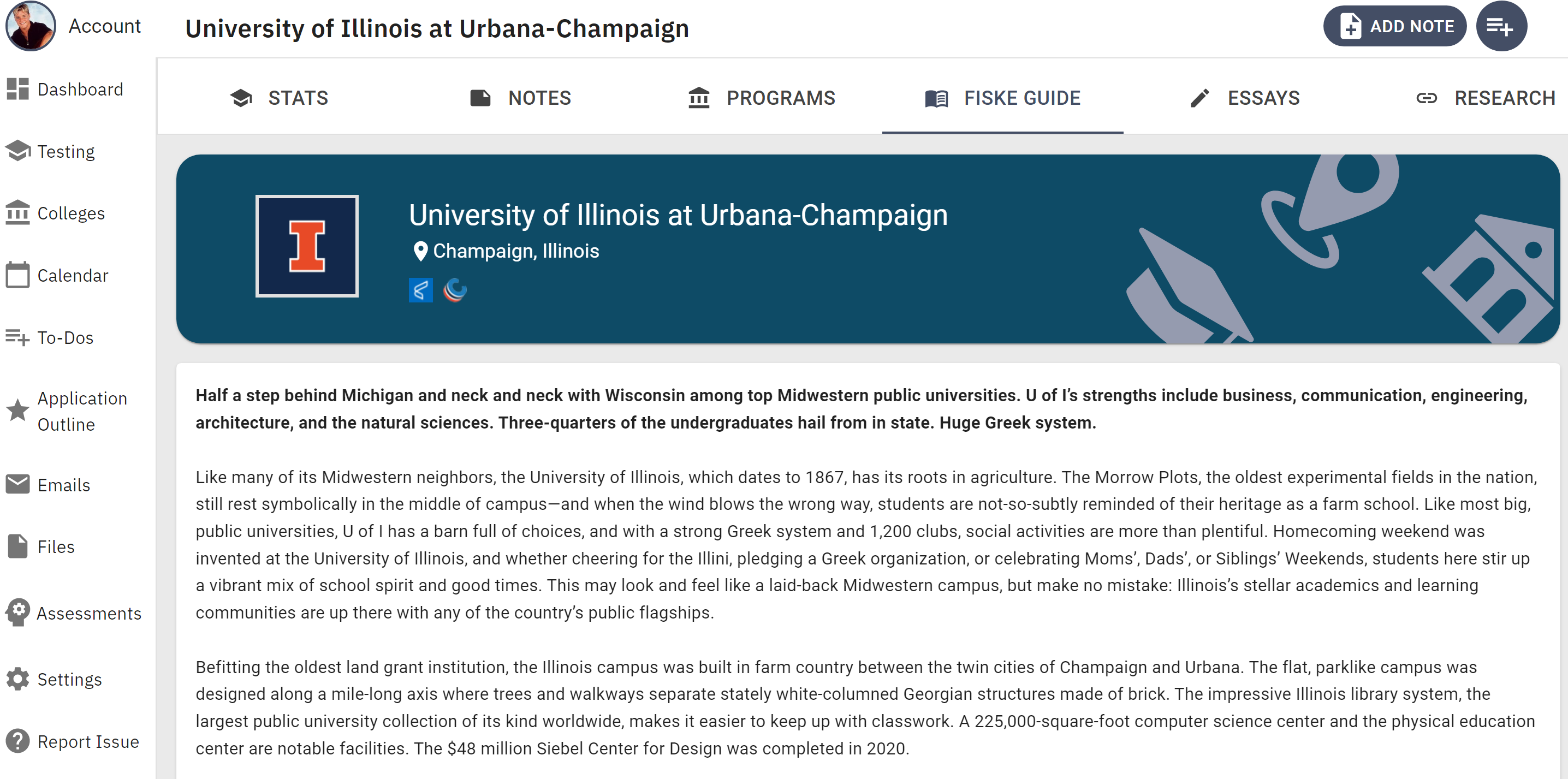 Note: If you do not see a The "Fiske Guide Profile" tab on a College Profile in CollegePlannerPro, this means there is not a Fiske Guide Profile for the respective school at this time.