When the orange exclamation icon
is displayed in front of a college name in the "My List" or "Suggested List", it means that either there are no application deadlines set for the college or there are unverified application deadlines listed for this college. Deadlines are added to the system through a deadline import are "unverified". We recommend visiting the college's webpage to verify the dates because 1) the import may contain errors, or 2) the college may have updated their deadlines after the import data was made available.
Marking a Deadline as Verified
To mark a deadline as verified, navigate to the college's profile page. Go to the "Students, Deadlines & Requirements" tab and click the checkmark icon next to the appropriate deadline item. Once verified, the checkmark will turn green and say "Verified".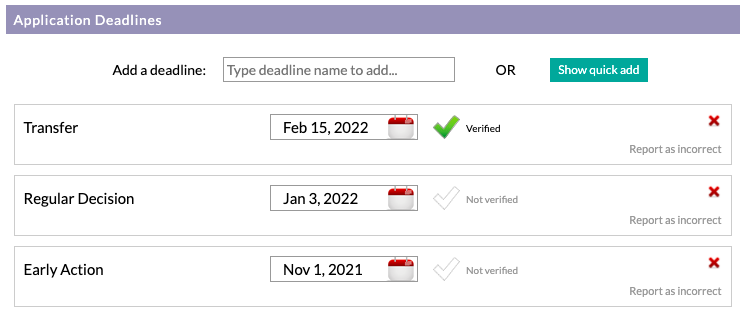 When all of the deadlines for a college have been verified, the orange exclamation mark will disappear from the college lists for that school.
NOTE: When a custom deadline is added by you, it is automatically saved as a "verified".
Students can see verified and unverified application deadlines, but they cannot see the exclamation marks. The exclamation mark is used only to alert you that there are unverified deadlines for that school. To see a list of colleges/deadlines you have verified, you may create a "Verified Deadlines Report". For more information on creating this report, see "How do I create a report to list verified college deadlines?"