You may delete Application Deadlines and Requirements that you have previously added. For those deadlines and requirements that have been preloaded and established as defaults within your CollegePlannerPro account, they cannot be deleted however they may be edited. Please see, "How do I customize "Quick Add" Application Deadlines and Requirements?" for more information. In order to delete either a deadline or requirement, you will have to "unlock" the items. Subsequently, it will then be necessary to "lock" the items.
If a deadline and/or requirement is deleted, please note that these will be deleted from ALL college and student profiles.
How to delete an application deadline or requirement
1. Navigate to the Colleges Main page and select "Edit Deadlines & Requirements"
2. Select "Click to unlock items for deletion"
3. Click the red "X" icon next to each item to be deleted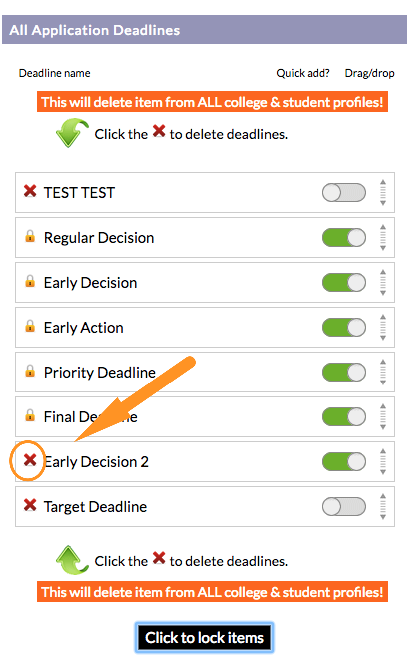 4. Select "Click to lock items"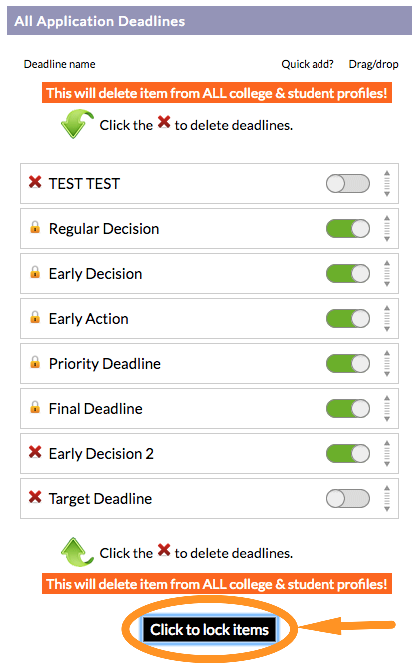 NOTE: This will delete item from ALL college & student profiles.
Helpful (related) articles