This article is a part of our New Member Training Guide in the College Lists section. Navigate to the next article in the series by following the link at the bottom of this article or return to the New Member Training Guide homepage here. 
The "Suggested College List" is a list you'll create for each student client you work with. Your students will view the schools on the Suggested List and they can then elect to move a copy of the school to their own "My List of Colleges." For more on the "My List of Colleges" see the article, "What is the Student's 'My List of Colleges'?". The schools on the Suggested College list are managed by you (the counselor).
While you are in the process of creating the "My Suggested Colleges List", you may choose to have the list not viewable by the student. You may determine "when" the student sees the Suggested List by managing the "Account Settings" on the student profile.  For more information, check out the article, "How do I modify what Students can see in their account?"
Creating a Suggested College List
Suggested college lists are found within each student's profile. In order to create a Suggested College List, you'll need to have an active student profile to work with.
Navigate to the student's profile page
Click the "My Suggested College List" button from the toolbar
The "Manage Suggested List of Colleges" dialog window will open
Select colleges  "By Name", "By List", or "By Tag"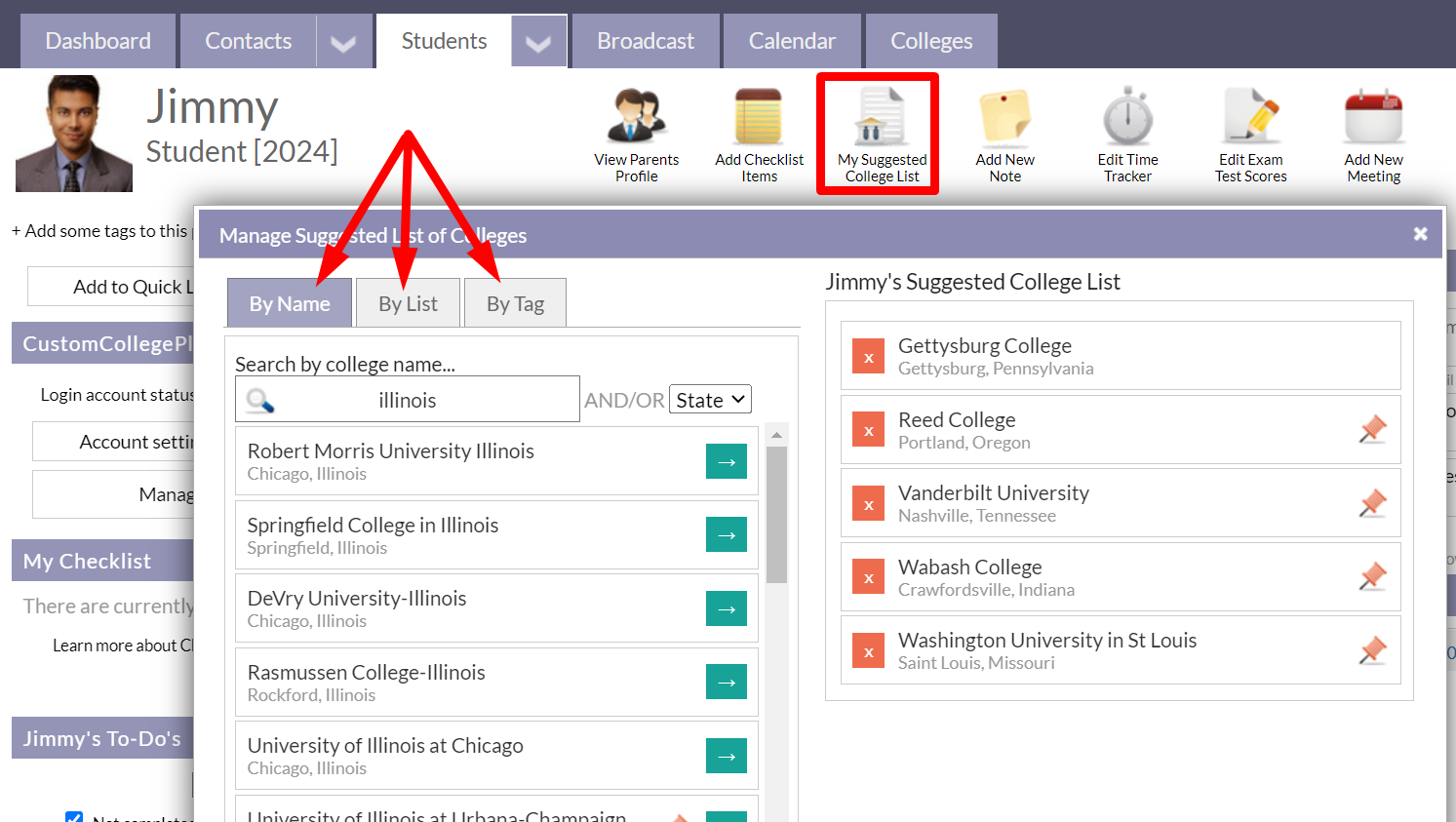 5.  Add colleges to your Suggested list by clicking the blue arrow icon listed next to a college

Click on the arrow to move school your my suggested list. Once you have added a school to your My Suggested List, the arrow will turn grey and non-responsive. 

 To remove a college from the list, click the orange "X"
Filter "By Name"
Select the "By Name" tab
Enter the name of a school and continue with no. 5 above
Or select a State and click the arrow to add to Student's Suggested List
Note you may enter both the name of a school and a State
Filter "By List"
Select the "By List" tab
Change the source list by typing a name or clicking the arrow to browse lists
Note: You must have previously created/imported a custom college list or added colleges to your College Bucket in order to add colleges "By List"
Select the list you want to be displayed
Click the green arrow to add to Student's Suggested List
Filter "By Tag"
Select the "By Tag" tab
Enter the tag you would like to use
Note: You must have previously added college tags in order to search them and add colleges "By Tag"
You may add more tags to filter the list further
When you have finished entering tags, click the green arrow to add to Student's Suggested List