This article is a part of our New Member Training Guide in the Student Management and Communication section. Navigate to the next article in the series by following the link at the bottom of this article or return to the New Member Training Guide homepage here.
Student Notes are private transcripts that you create and save for future reference. Each note can store approximately 2-3 document pages worth of content. Fully-qualified URLs (example: http://www.collegeplannerpro.com) will automatically be transformed into clickable links inside of a note. You may copy and paste the content from other applications like Microsoft Word or Apple's Pages.
Notes are not viewable by your Students (or Parents) and are strictly kept private. Within each Student account, you have the ability to post notes. Information may be stored in these notes that you'd like to keep in each student's profile. For example, session notes after each interaction you have with a Student may be saved.
Notes can be printed. As previously stated, Notes are private however you have the ability to email the note (or part of the note) to students and parents. You may also search through your notes.
How to add a student note
Navigate to the Student's Profile
Click on the "Add New Note" from the toolbar
Choose the appropriate "in reference to" icon (Phone Call, Meeting, Email, Session)
Add your note content
Choose the status of the note (See "How to set a note to Open" below)
"Save Note"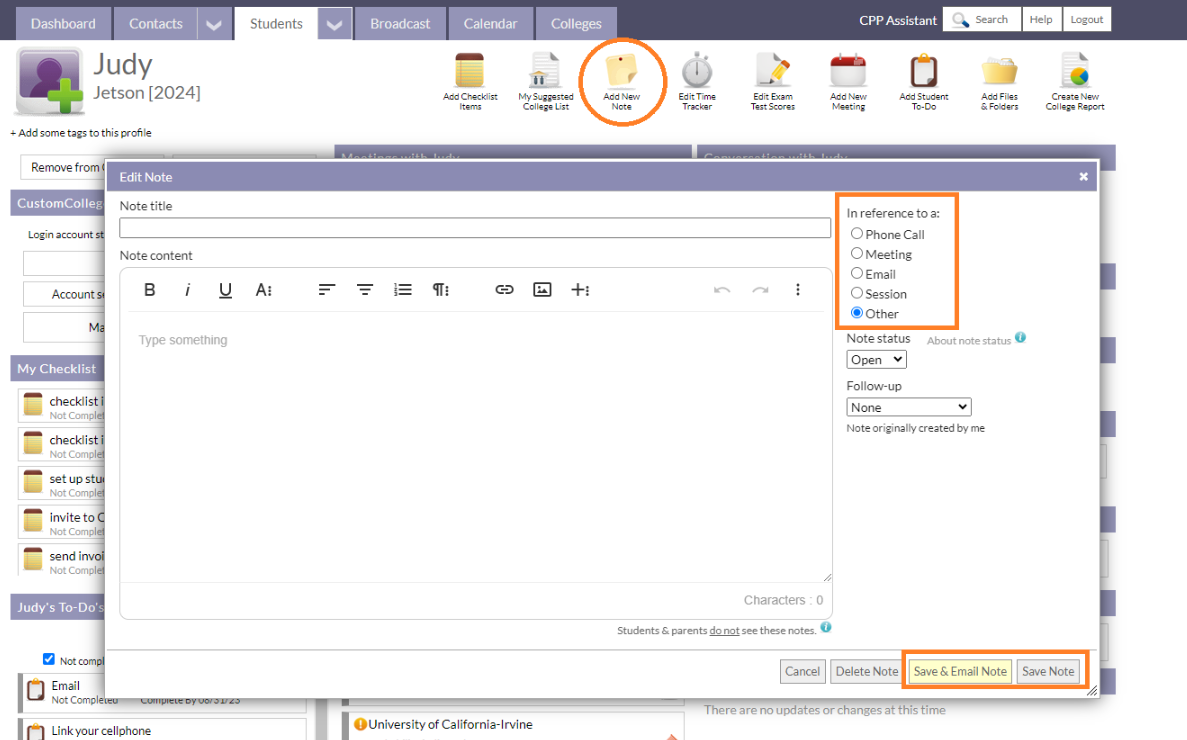 How to set a note to "Open"
"Open" notes are designed to indicate there's a follow-up expected for a specific note. Perhaps a phone call is needed or another meeting needs to take place. By leaving a note "open", the note will appear on your calendar and alerts may be set up so as to let you know that further action is required. All "open" notes will also appear on the Students Main page.
Create the Note as listed above
Ensure the "Note status" is toggled to "Open"
From the drop-down list select what the follow-up is in reference to
You may set up a follow-up date with alerts
"Save Note"

Search for Notes
You may search for keywords in your student notes. For more information on searching through your notes, check out the article, "How do I search for clients, colleges, and notes?"
Email Notes
You have the option of copying the student or parent on the email, in addition to up to 3 more recipients. In addition to saving you time, you will have a complete history of what notes/emails have been sent. After sending the email you'll see a little icon within the Note's display which will indicate you've emailed the Note. After emailing a note, you may also view the note content and the list of recipients. For more details, see "How do I view an emailed Note?"
How to email students or contacts using Notes
Click on the Note to be emailed
Select "Save & Email Note"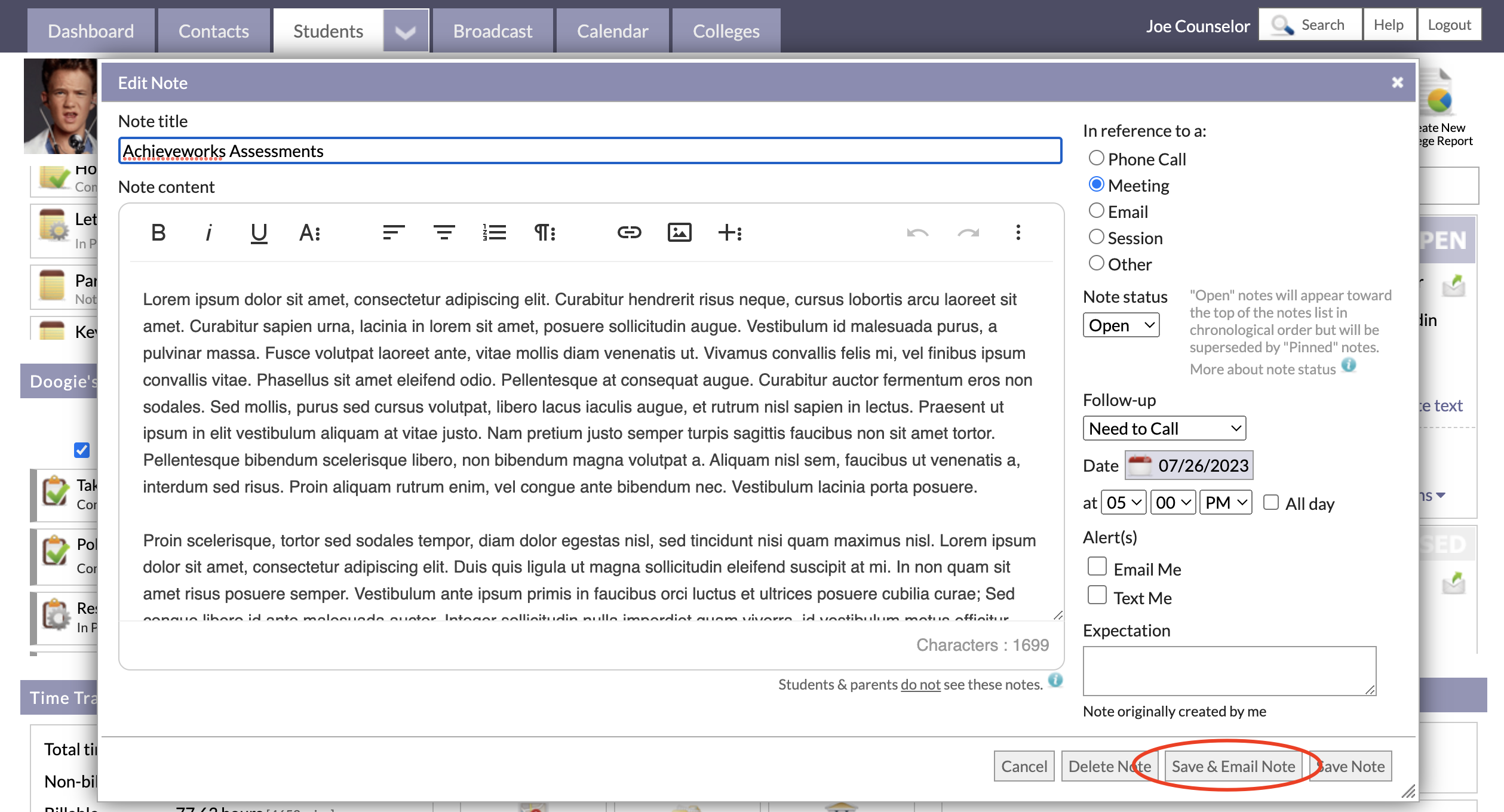 Select to whom you would like to email the note (remember, you can include multiple recipients)

Edit the subject line(Optional)

Compose your email by

editing

the note content

Click "Send Email"
Additional editing of the email
The toolbar

within

the Email body provides several options so that you may customize your email.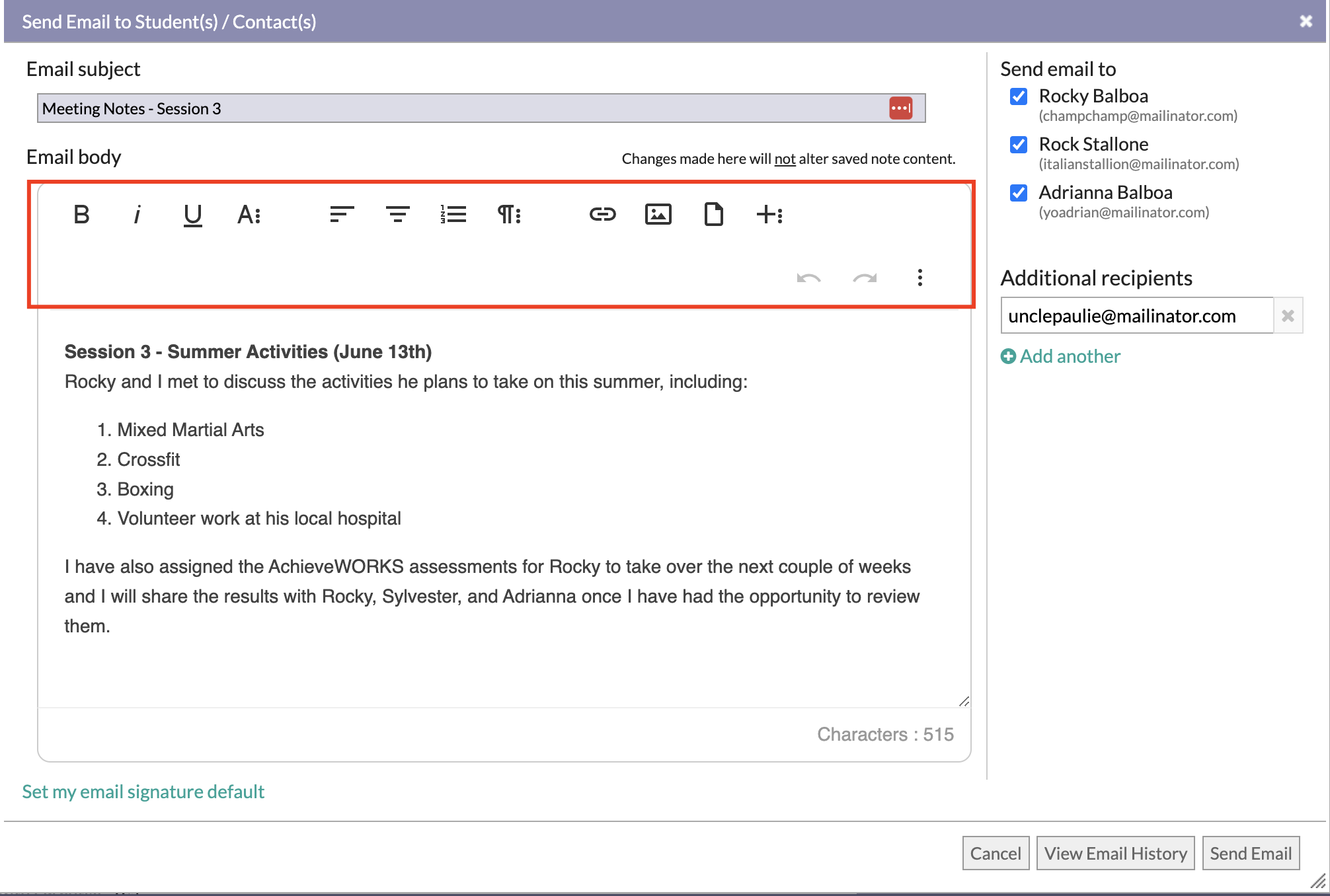 Change font color, size, and color
Clickable links may be inserted to direct clients to a specific website
Bullets and tables may be added