This article is a part of our New Member Training Guide in the Student Management and Communication section. Navigate to the next article in the series by following the link at the bottom of this article or return to the New Member Training Guide homepage here.
You may assign Student To-Do's to a student in two ways. (1) You may assign a To-Do by creating a new or individual To-Do on the student's profile page. (2) You also may assign a To-Do from your list of Multi-Student To-Do's you had previously created on Students Main. For more information on creating Multi-Student To-Do's check out the Knowledge Base article, "How do I create a Multi-Student To-Do?" Students will see all assigned To-Do's as unique to them, they will not be able to determine if a To-Do was created specifically for them or not.
To assign a To-Do, navigate to the student's profile and select "Add Student To-Do" from the toolbar. From there, you may either create a new To-Do or assign an existing To-Do.

(1) How to create/assign an "Individual" To-Do for a student:
Navigate to the student's profile
Select "Add Student To-Do" from the toolbar
Enter a title and a complete date
You may add notes/instructions and a start date
Indicate if you want the To-Do to be viewable by the student by selecting "Private" or "Shared"
You may send a reminder; select how many days before or after and to whom
Click on "Save Item"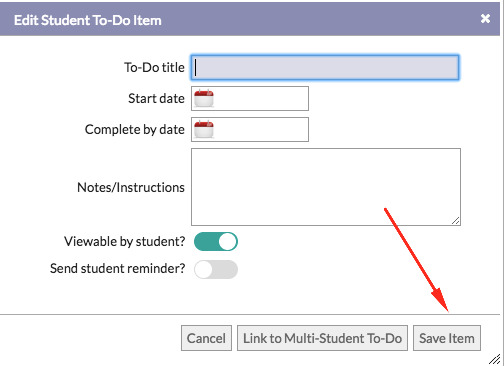 (2) How to assign a "Multi-Student" To-Do for a student:
Navigate to the student's profile
Select "Add Student To-Do" from the toolbar
You may edit the "Complete By Date" (or defer to the existing date)
Select "Link to Multi-Student To-Do"
Toggle ON (blue) to add each To-Do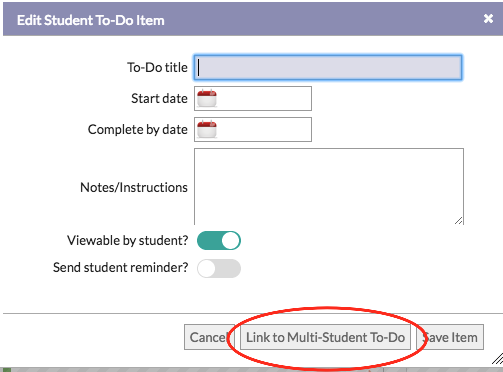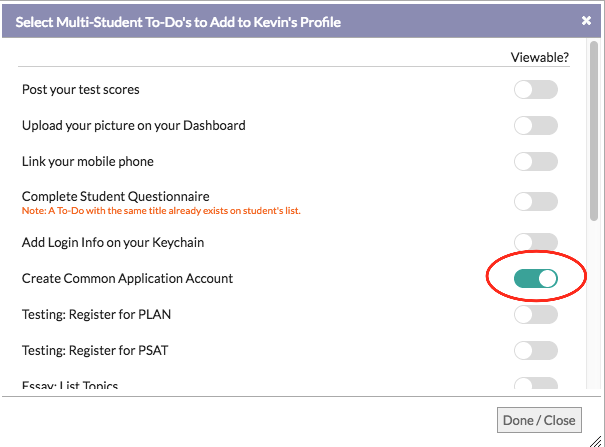 NOTE: