You may add a website icon to your home screen on your mobile devices so that you can quickly access your CollegePlannerPro mobile version. Here are some tips on adding shortcuts to your CPP mobile version login from various mobile devices.
For iPhones:
Safari browser
Open your browser and navigate to cpp.ms
Tap the "Share" icon from the bottom of the screen
Select "Add to Home Screen" icon


My Dashboard will be displayed -- you may change this to the verbiage of your choice (i.e. CPP)

Tap the "Add" button

Launch the CPP mobile version by tapping on this icon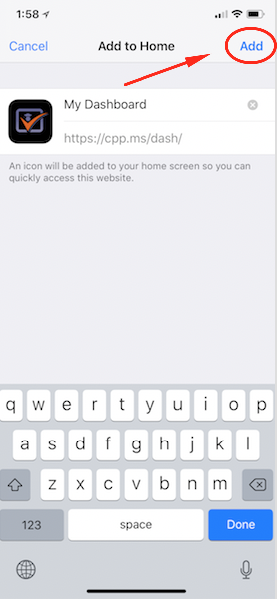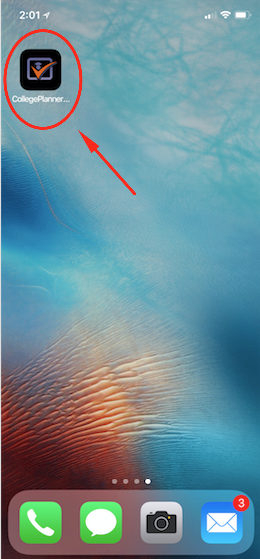 Chrome browser (iPhone & iPad)
First of all, get the

Shortcuts App

on your iOS device. Most iPhones already have this app pre-installed. Conduct a search by swiftly swiping down your home screen until you see a search bar.
Launch the

Shortcuts App


To add a Chrome Bookmark to the Home Screen, tap

Create Shortcut, or the "+" icon in the top-right
Select +Add Action
Next, tap on

Apps, it's at the top next to Categories
Scroll down and choose the

Chrome

App
Tap

Open URLs in Chrome (the first option)
Tap on the word "URL" and now type cpp.ms and click Done
Tap on the square icon in the top-left to customize the logo color
Tap the three-dots at the top and give the Shortcut a name and click Done
Almost done.....Tap on the blue circle at the top (it has three lines in it) and hit

Add to Home Screen (and you can give it a name here too)

Tap Add in the top-right, and you're done!
For iPads:
Open your browser and navigate to cpp.ms
Tap the "Share" icon from the top of the screen next to the web address
Select "Add to Home Screen" from the list of options
My Dashboard will be displayed -- you may change this to the verbiage of your choice (i.e. CPP)
Tap the "Add" button
Launch the CPP mobile version by tapping on this icon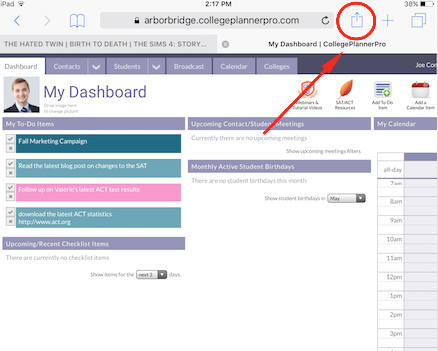 For Androids:
Open your browser and navigate to cpp.ms

Hit the menu button and add the page to your bookmarks

Open your bookmarks, using the menu button, press down and hold on your cpp.ms bookmark until you see an action menu

Select "Add to home screen"

Launch CPP mobile version by tapping on this icon