The most efficient and convenient way to deliver an invoice to your clients is via email. Whether you would like the invoice to be delivered now or at a later date, CollegePlannerPro gives you the flexibility to schedule invoice emails up to two years in advance.
This article contains both written directions and a video walkthrough of:
Video Walkthrough
How to email an invoice
Navigate to a Contact's Profile
In the "Invoices" section click on the invoice to be emailed
Click the "Proceed to Send Options" button
Select "Now" or "At a time in the future" as your send option, select the date and time you'd like your email to be delivered (if selecting at a time in the future), and click "Next"
Should you choose to, you may edit the contents of the email from the next window. (You can adjust the default contents of this email)




To see the message in the format your clients will see it in, click on "Preview Email"
Once you are satisfied with your message, click "Send/Schedule Email to Contact"
Email Placeholders
These placeholders allow you to merge the data from the Contact's profile into the message. You have the flexibility to craft your email to display all of these variables or just the ones you want.
Use the email placeholders to dynamically include invoice specifics in the email sent to the client. The "::" before and after the placeholder indicates that this section will be replaced with the proper invoice attribute.
PLEASE NOTE
Invoice emails MUST include the invoice link placeholder (::invoice link::). Do NOT delete this placeholder from your email as it is required for your client to be able to view your invoice via our secure invoice portal.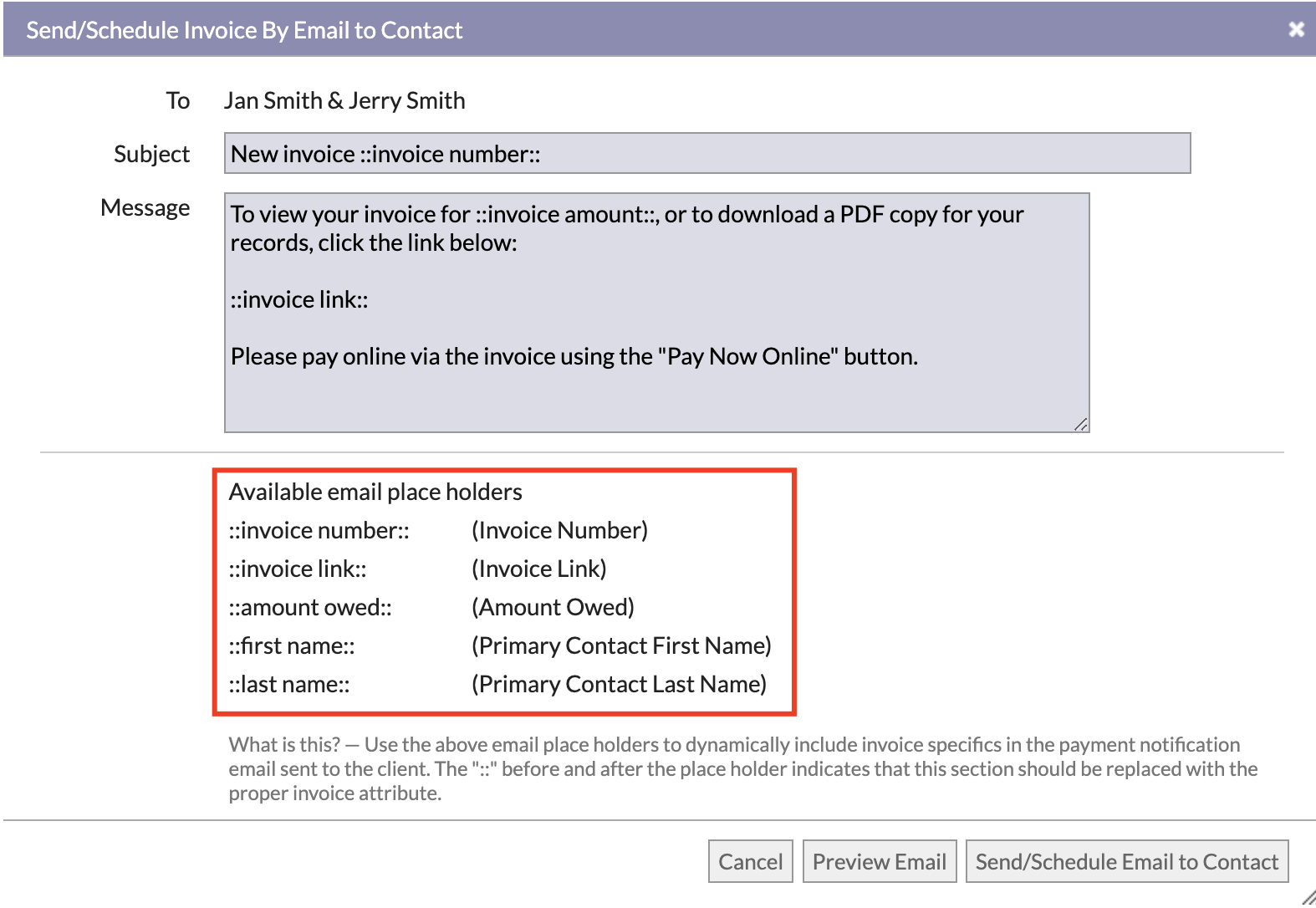 For example, the email placeholders: "::invoice amount::" and "::invoice link::" from the screenshot above, will automatically be filled in with the invoice amount and a link to the online invoice you're emailing in reference to, as the message is delivered to your client.

How to see which invoices are scheduled for future delivery
There are two ways to quickly see which invoices are scheduled for future delivery.
Scheduled Invoice Emails Report
Navigate to the Contacts Main page
Click on "Invoice Reports & Settings" in the reports section on the left-hand side of the page
Click on "Scheduled Invoice Emails" on the left-hand side of the page
You'll then be presented with a list of all scheduled invoice emails. You may click on an invoice number to view the details and/or edit the delivery date
From the Contact's Profile Page
Navigate to a Contact's profile
In the list of invoices on the right-hand side of the page, scheduled invoices will be indicated with the icon shown below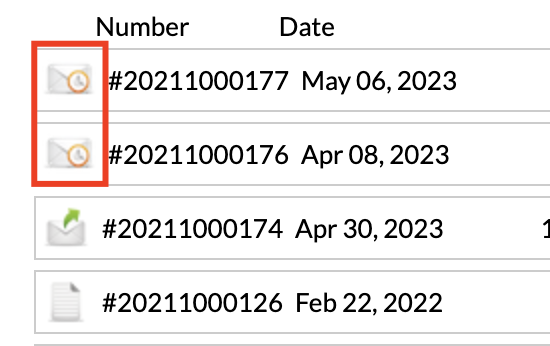 How to edit your scheduled invoice email delivery date and time
Open the invoice and scroll down to the Invoice Autobiography
Click on "Edit scheduled email"

Select whether you would like to Cancel the scheduled email or edit the delivery date and time