This article is a part of our New Member Training Guide in the Calendar and Scheduling section. Navigate to the next article in the series by following the link at the bottom of this article or return to the New Member Training Guide homepage here.
Video walkthrough
Here's a quick overview of how to set up your availability using CollegePlannerPro's Scheduling Tool:
Step-by-step instructions
On the Calendar tab, click "Scheduling Availability".

To add a new event type from scratch, click "Add New Event Type". Alternatively, click on any existing event type on the left to edit it.

Give your event type a name to describe what type of meeting it is (for instance, "Initial Consultation", "Junior Check-in Meeting", or "Essay Review Meeting"), then click "Create event type".

In the What event is this? section, you can add more details about the event that will be displayed on the scheduling page, and in confirmation emails/reminders.

Location

can be a physical or virtual location. Many consultants opt to include a reusable Zoom link (or other web conferencing link) in this field. See: Scheduling Tool + Zoom Personal Meeting Room

Description

is meant to provide more information about what will happen during the meeting, and/or any expectations for attendees.

Scheduling instructions

allow you to collect information from your attendees at the time the appointment is scheduled. For example, for meetings with new clients, you could request that they provide you with background information on the student (graduation year, interested field of study, etc.)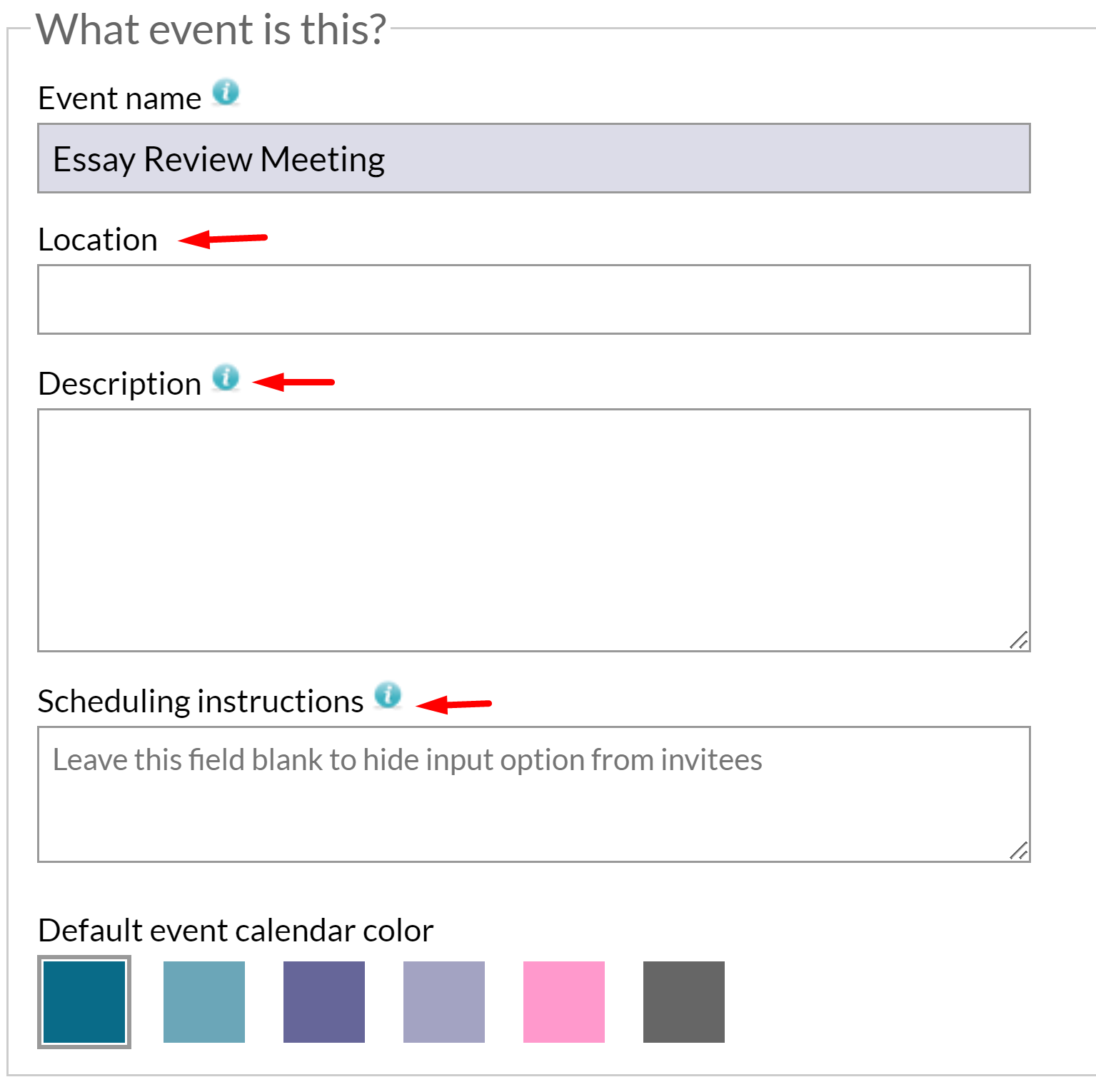 In the When can these events be booked? section, you can define your availability for meetings of this type to be scheduled.

Duration

is the length of the meeting

Availability

allows you to select which day(s), and during which specific windows of time on each day, you are available for a meeting. You can edit availability intervals, as well as frequency of event start times, by clicking "Edit" next to a given day.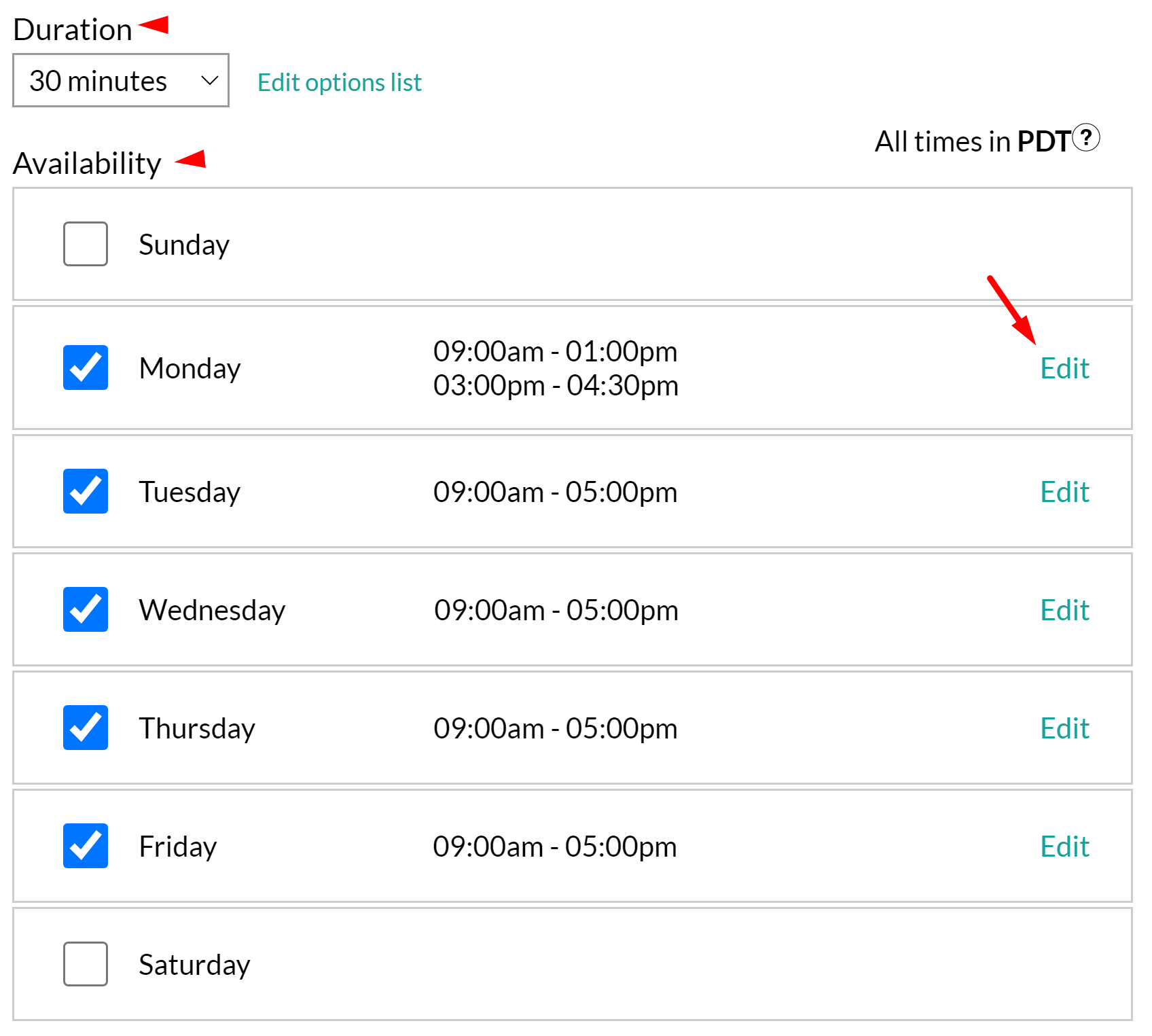 How far into the future can events be scheduled?

offers options between a certain number of rolling days, a specified date range, or indefinitely.

Minimum scheduling notice

requires that you have a certain number of hours of advance notice in order for a meeting to be scheduled.

Black out dates

prevent clients from scheduling with you for this event type during a specific day or range of dates. To block availability across all event types, see: How to blackout dates across multiple event types

Buffers

before or after the event allow you to build in transition time between meetings.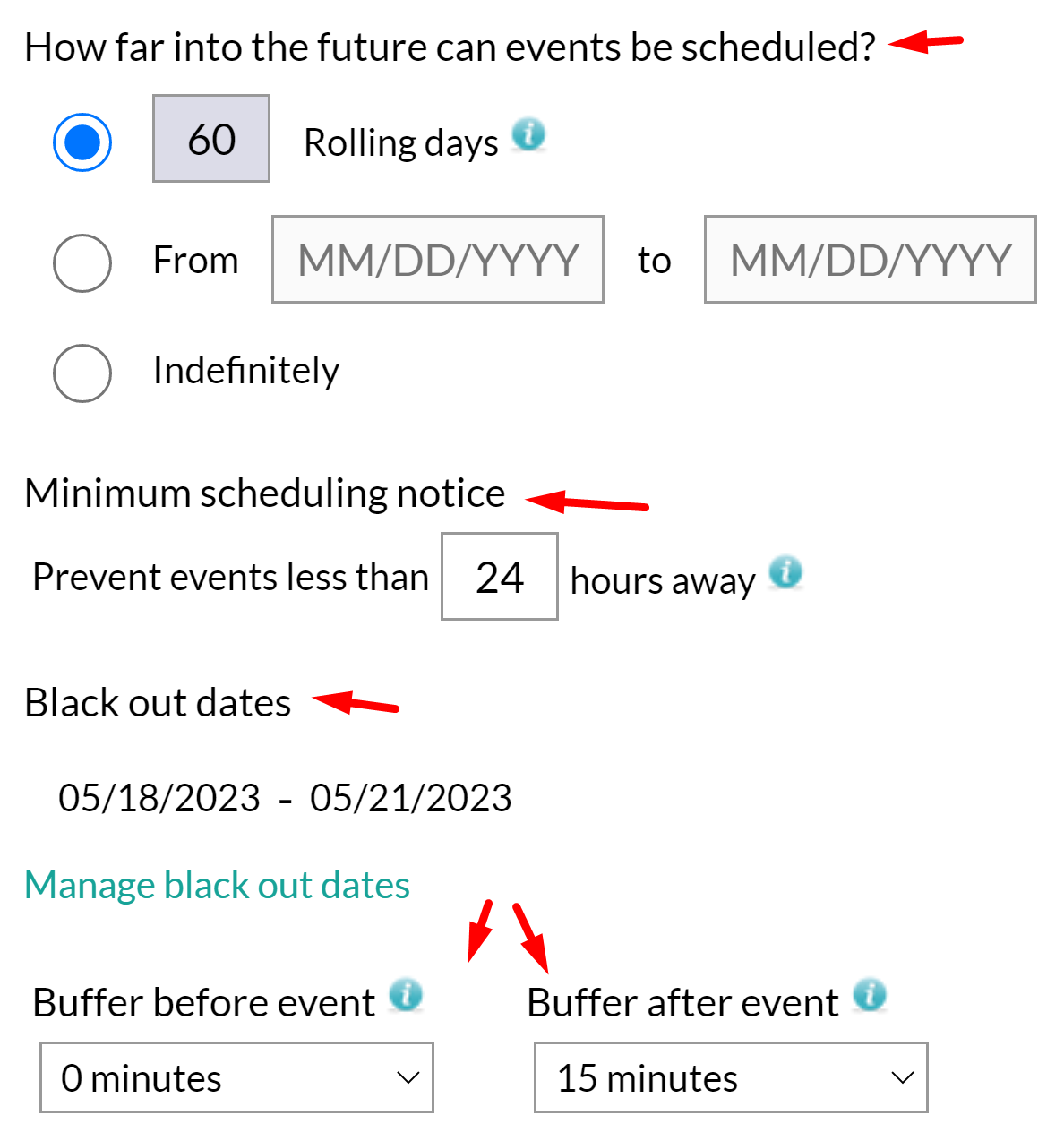 The Who can book these events? section is covered in: How do people schedule an appointment with me?