Let's first talk about what a "Contact" is within CollegePlannerPro. Then we'll get into why it's so important to create profiles for all your Contacts.
What is a Contact?
A "Contact" can also be thought of as a "family unit". Within a Contact profile, you'll add the parents or guardians for a student along with the student's basic information. By grouping the family together you'll be able to retrieve their complete profile and all of their information at once. This keeps things simple and reduces the amount of time it takes to search for the information you're looking for. All students (both client, eventually client, and/or prospective) will be added to a Contact profile first. For more on this see the "Contact to Student client workflow" section below.
Why create a Contact profile?
When parents first reach out to you and express an interest in your services, let's say via a seminar or workshop, you'll want to enter their family's information into a Contact record. This will then set you up to have a place to store notes for all the interactions you have with a family. You can quickly and easily save notes and references to any meetings, phone calls, or emails with the student or parent(s). Managing prospective families and current client students can get overwhelming very quickly. By creating a Contact profile for each family, you will have a place to save all the information you gather and communicate with a family. This becomes particularly helpful when a parent calls you on the phone and you need to quickly recall when you met, what their student's name is, which high school the student attends, what specific service they're interested in, the price you quoted them, etc. By setting up a Contact profile you'll have all of that information, and more, on one screen.
The Contact to Student client workflow
All students, who eventually become clients, will need to be first added to a Contact profile. Therefore, it's imperative that Contact profiles are created for all your prospective families. This also provides a nice way to include any siblings in the Contact's profile. By including younger brothers and sisters for the students you are actively recruiting you are setting yourself up to have a nice base of prospective families to reach out to in the future. Once a family decides to be a client, it's time to upgrade the student from simply existing within the Contact profile by adding them as a Student complete with their own profile. For more on how to add a student profile, check out the article, "How do I add a student?"
How to Add a Contact
Navigate to the Contacts Main page by clicking on the "Contacts" tab

Click on the button labeled, "Add Parent(s) Contact" in the toolbar. Be sure to click the "Parent(s)" button and not the "Add Professional" button or you won't be able to add students to the record.
A window will open with a form to add both a primary and secondary individual to the record. The secondary is added in the shaded section of the form on the right-hand side.
You may add complete data or simply the minimum requirement: Name and Recruitment Source (For more on Recruitment Source, check out the article, "What's the Recruitment Source?"
When finished, click the "Save" button at the bottom of the window. You'll then be taken to the newly created Contact profile page.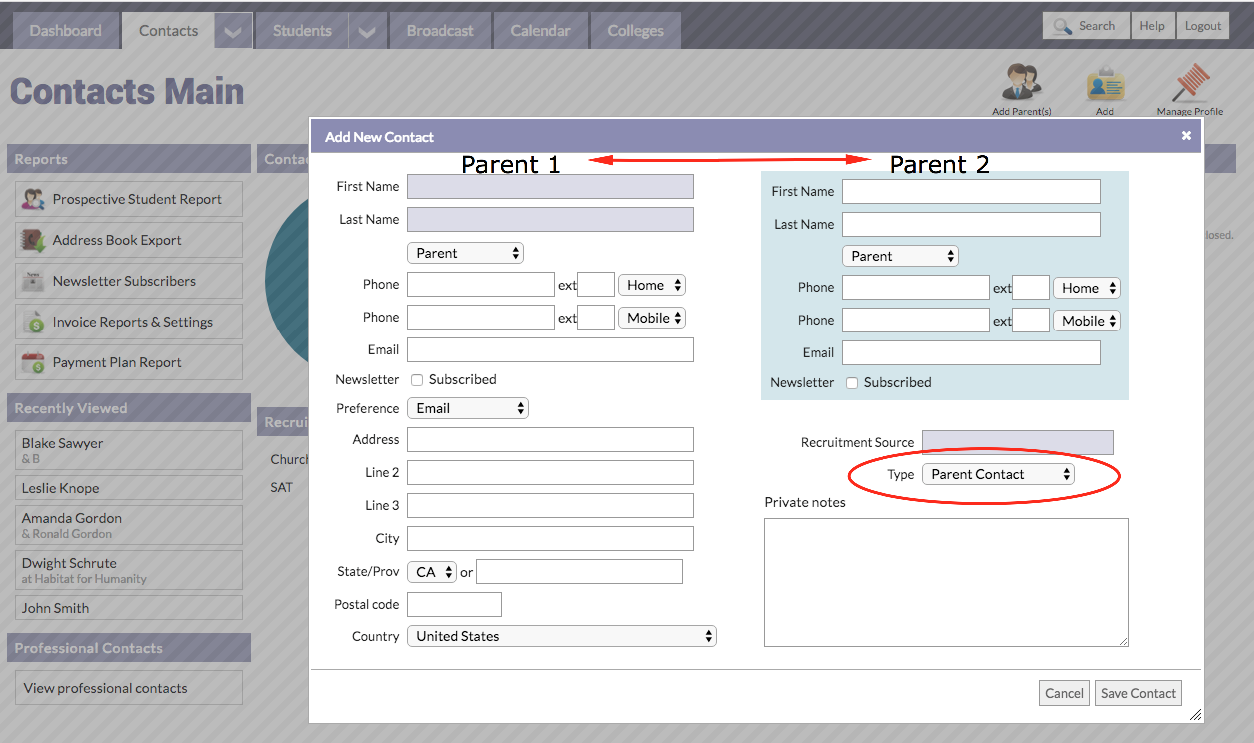 Helpful (related) Articles