This article is a part of our New Member Training Guide in the General Introduction section. Navigate to the next article in the series by following the link at the bottom of this article or return to the New Member Training Guide homepage here.
What is a Contact?
Contact profiles are for the families you are recruiting and working with as clients. Contacts allow you to group family members including parents, step-parents, students, siblings, legal guardians, etc. into one Contact record. By adding Contacts to CollegePlannerPro you can easily and efficiently maintain profiles. You can save time and energy by documenting all your interactions with parents and students. You'll know how your prospects are finding you, how many families you are actively recruiting, and also if any previously client families have younger students that may be interested in your services and other valuable information that helps you establish a business workflow from the beginning with prospective families to working with paying clients. You can build a sales pipeline that ensures you continue a healthy client base while still maximizing the amount of time available to work with your Students.
How to Add a Contact
Navigate to the Contacts Main page by clicking on the "Contacts" tab

Click on the button labeled, "Add Parent(s) Contact" in the toolbar. Be sure to click the "Parent(s)" button and not the "Add Professional" button or you won't be able to add students to the record.
A window will open with a form to add both a primary and secondary individual to the record. The secondary is added in the shaded section of the form on the right-hand side.
You may add complete data or simply the minimum requirement: Name and Recruitment Source (For more on Recruitment Source, check out the article, "What's the Recruitment Source?"
When finished, click the "Save" button at the bottom of the window. You'll then be taken to the newly created Contact profile page.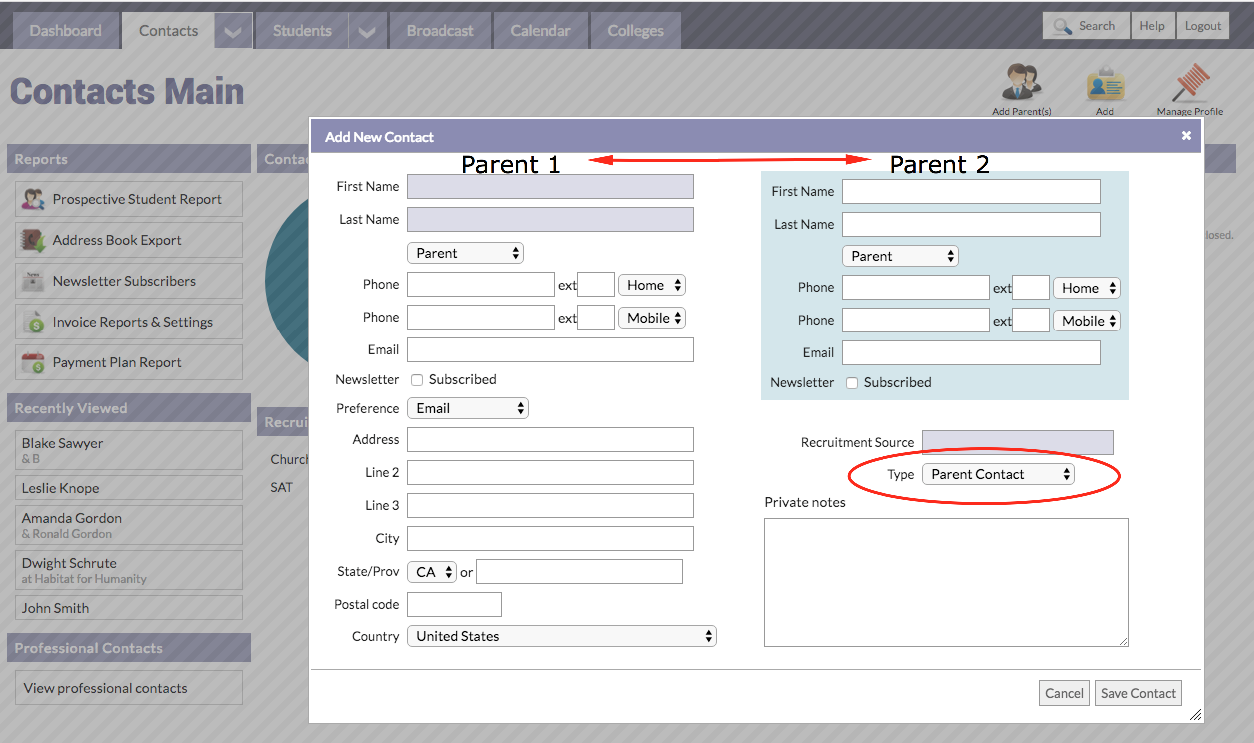 Setting a Contact's Status
The most popular status settings for a Contact are "Client" and "Recruiting." However, there are two additional options you might find handy as you group your Contacts. Check out this article What are the four different Contact Status categories all about? on grouping your Contacts.
Setting a Recruitment Source
Your prospective clients are reaching you from various sources. Perhaps they're referrals from a current client or they attended a workshop or seminar you hosted. By tracking their Recruitment Source you can easily pin down where your clients and prospects are coming from and thus focus your marketing efforts. Learn more about Recruitment Sources and how to set them up.
Keeping Notes
It's important to know exactly what's happening, where you stand with a prospective-client family, and the interactions you've had. Contact Notes are a fast and easy way to document all of that information. You can even have notes appear on your Calendar to remind you of any follow-up you have with a Contact. Check out this article, What are Contact Notes and how can I use them? to learn more!
Video Tutorial
This video covers adding a parent contact within CollegePlannerPro and a details overview of the parent profile page.