This article is a part of our New Member Training Guide in the Calendar and Scheduling section. Navigate to the next article in the series by following the link at the bottom of this article or return to the New Member Training Guide homepage here.
There are several ways to create Calendar events for your clients. The simplest way is to use the "Add New Meeting" button in the toolbar on a Parent's or Student's profile page.

You can also add an event to your Calendar on the "Calendar" tab or in the daily view of the Calendar on the Dashboard.
You can set up "Alerts" to be sent as reminders to yourself and also to both parents and students. Additional options are available allowing you to set when the alert should be sent. Students will receive an email message and a text message (if they've linked their mobile phone with their account). Calendar events created for students may easily be included in the Time Tracker log too.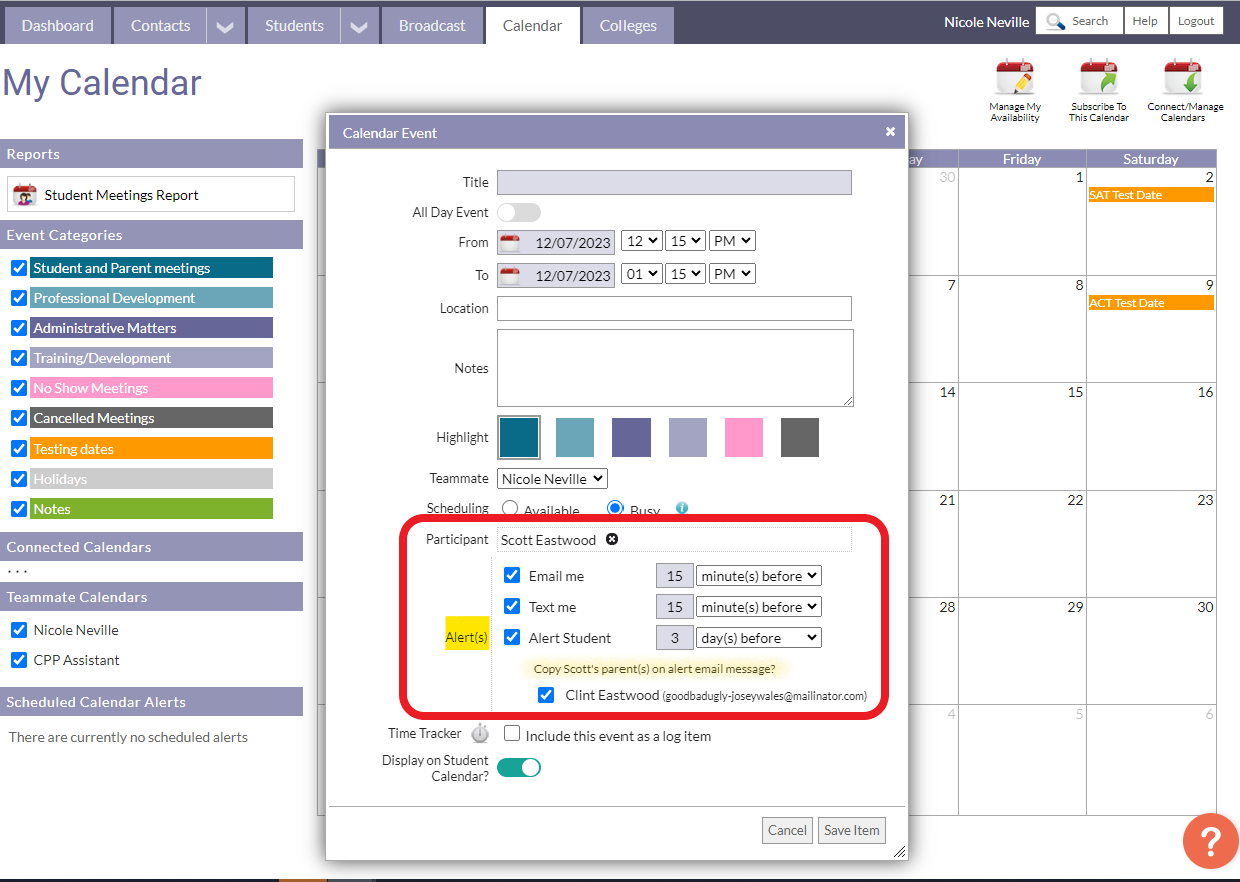 Once the calendar event has been created, you can also send an email notification of this upcoming event to parents and students. Simply click on any meeting from your calendar or from their profile, and click "Send Email". Next, select who you would like to receive this email (student and/or parents) and press send email once more.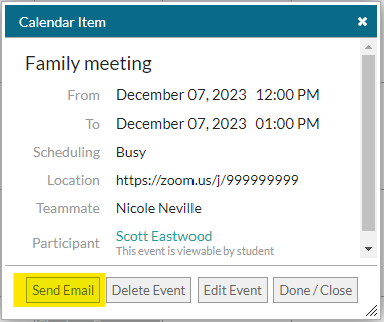 Calendar & Alert Settings
You may control your default settings to reflect how you would like all of your calendar alerts to be set. From your Dashboard, head to "My Settings & Preferences" and under the My Notification Preferences section, turn on/off if you would like to receive an email and/or text message when an invitee schedules a meeting with you.
Under the Calendar & Alert Settings section, you may turn on/off the default options for alerts for yourself and for students/parents. From there, you may specify how many minutes, hours, or days before or after an event you would like alerts to be sent. These settings affect all calendar events, including those scheduled via the scheduling tool.
Note: These default options can be overwritten and adjusted on a meeting-by-meeting basis.